Walter John Goos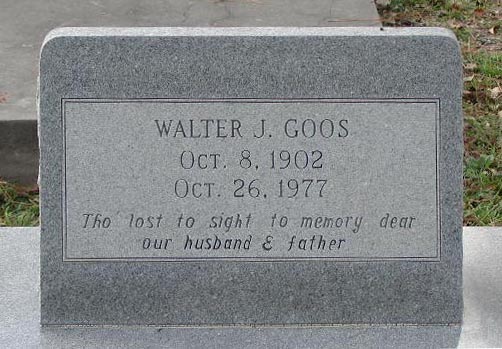 | | |
| --- | --- |
| Born: | October 8, 1902 in Goos's Ferry, Lake Charles, Louisiana |
| Died: | October 26, 1977 in Lake Charles, Louisiana |
| Buried: | October 28, 1977 in Goos Cemetery, Lake Charles, Louisiana (Map 9) |
| | |
| Father: | Albert Edward Goos |
| Mother: | Laura Rebecca Reeves |
| | |
| Wife: | Rena Vivian Materne |
| | |
| Married: | May 25, 1923 in Lake Charles, Louisiana |
| | |
| Children: | Vivian Katherine Goos |
| | Ruth Alice Goos |
| | Walter Stewart Goos, II |
| | Billie Jean Goos |
| | Shirley Ann Goos |
| | Mary Lynn Goos |
| | Jerry Wayne Goos |
| | |
| | |
Lake Charles American Press:
Walter J. Goos' services Friday
Walter J. Goos, 75, of 932 Idlewilde, former Calcasieu Parish police juror and Lake Charles official, died at 11:20 p.m. Wednesday in a local hospital.
Funeral services are scheduled at 2:00 p.m. Friday, Oct. 28, in the Episcopal Church of the Good Shepherd. Burial will be in the Goos Cemetery under direction of Hixson Funeral Home. The Revs. Ken English and David Powers will officiate.
Mr. Goos, a grandson of Capt. Daniel Goos, founder of the lumber industry in Southwest Louisiana before the turn of the century, was a native of Lake Charles.
He was a past president of the Police Jury. He served on that body 22 years.
Mr. Goos was also street commissioner of Lake Charles for four years and was on the board of directors of the Lake Charles Sewerage Board. He was in charge of the Lake Charles beautification program when it got underway in the early 1960's.
He is survived by two sons, Walter S. and Jerry W. Goos, both of Lake Charles; four daughters, Ruth Goos of Lake Charles, Mrs. Wilbert L. (Vivian) Hebert of Moss Bluff, Mrs. Ellsworth (Billie) Sperling of Beaumont and Mrs. Walter (Mary Lynn) LaFargue of Alexandria; one sister, Mrs. Laura G. Koonce of Moss Bluff; nine grandchildren and two great-grandchildren.