Laura Rebecca Reeves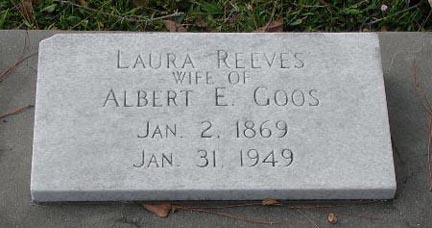 | | |
| --- | --- |
| Born: | January 2, 1869 in Sugartown, Louisiana |
| Died: | January 31, 1949 in Lake Charles, Louisiana |
| Buried: | February 1, 1949 in Goos Cemetery, Lake Charles, Louisiana (Map 9) |
| | |
| Father: | |
| Mother: | |
| | |
| Husband: | Albert Edward Goos |
| | |
| Married: | April 26, 1888 in Lake Charles, Louisiana |
| | |
| Children: | Albert Bel (Ab) Goos, Sr. |
| | Katherine Barbara Goos |
| | Fredericka Clara Goos |
| | Laura Annie Goos |
| | Daniel L. Goos |
| | Willie Faye Goos |
| | Walter John Goos |
| | Leno Fred Goos |
| | Patrick McCoy Goos, Sr. |
| | Frankie Goos |
| | Jessie Goos |
| | |
| | |
Lake Charles American Press, Monday, January 31, 1949, p. 1 and Tuesday, February 1, 1949, p. 4:
Mrs. Laura R. Goos Dies; Funeral Set for 3 p.m. Tuesday
Mrs. Laura Rebecca Goos, 80, lifelong resident of the Lake Charles vicinity, died at 8:15 a.m. Monday at the Calcasieu parish hospital after a long illness.
The body is at the Hixson funeral home where services will be held at 3 p.m. Tuesday with the Rev. Stafford Hebert, pastor of Calvary Baptist church, officiating.
Burial will be in the Goos cemetery. Pallbearers will be Alvin Conrad, Leslie Conrad, Walter Stewart Goos, Leno Koonce, W. T. Koonce, Leon Koonce, Leo Koonce and Gordon Goos.
Mrs. Goos, the former Miss Laura Rebecca Reeves, was the widow of Albert Edward Goos, youngest son of the late Capt. and Mrs. Daniel Goos, pioneer settlers of this section for whom Goosport was named. Her husband died in 1935.
She is the mother of Walter J. Goos, a member and past president of the Calcasieu parish police jury, and a candidate for mayor in the forthcoming city election.
Survivors also include three other sons, Albert Goos, Leno Goos, and Pat Goos, all of Lake Charles; four daughters, Mrs. Katherine Koonce, Mrs. Laura Koonce, Mrs. Freddie G. Grady, all of Lake Charles, Mrs. Willie Conrad, West Lake; one brother, R. J. Reeves, Lake Charles; one sister, Mrs. A. J. Mackey, Lake Charles; 28 grandchildren, and 22 great grandchildren.