Vivian Katherine Goos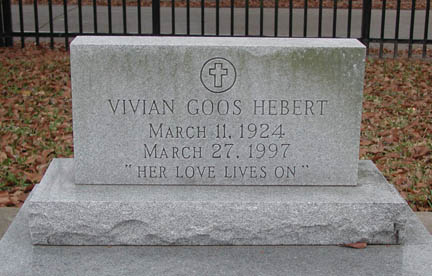 Lake Charles American Press, March 19, 1997:
Mrs. Vivian K. Hebert
Funeral services for Mrs. Vivian Kathryn Goos Hebert, 73, will be at 1 p.m. Monday, March 31, in Johnson Funeral Home.
The Rev. Fred Evers will officiate. Burial will be in Goos Cemetery.
Visitation is from 4 p.m.-10 p.m. Sunday, and from 8 a.m. Monday.
Mrs. Hebert died at 2:35 p.m. Thursday, March 27, 1997, in a local hospital.
A lifelong resident of Lake Charles, she was a member of a pioneer Calcasieu Parish family. She retired from Ryder Trucking Co. after many years of service. She was a member of First Baptist Church of Moss Bluff.
Survivors are one son, Michael Wayne Hebert of Houston, Texas; two brothers, Jerry Wayne and Walter S. Goos, both of Lake Charles; two sisters, Billie Sperling of Silsbee, Texas, and Mary Lynn LaFargue of Alexandria; and two grandchildren.