Katherine Moeling Fitzenreiter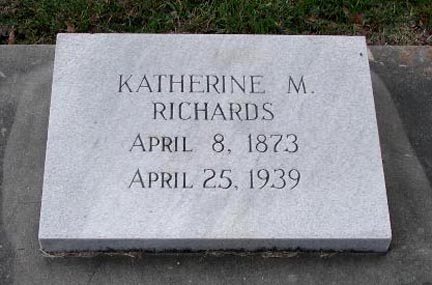 This was a marriage of first cousins: Charles Henry Richards's mother, Emma M. Goos, was Barbara Christina Goos's sister.

MRS. RICHARDS, SCION OF GOOS PIONEERS, DIES
Mrs. Katherine Moeling Richards, 66, died at the home of her daughter, Mrs. Andrew Swice, at Westlake Tuesday morning at 6:30 o'clock after a long illness
Mrs. Richards was born in New Orleans on April 8, 1873, the daughter of Charles Fitzenreiter and Barbara Goos, and came to Lake Charles in early childhood where she made her home until several years ago when she and her late husband moved to DeRidder.
She was a granddaughter of the late Captain Daniel Goos, who was one of the pioneers of Calcasieu, having come from Germany long before the war between the states. He established a lumber mill at Goosport and shipped lumber by boat in the early days before there were any railroads in this section. The death of Mrs. Richards leaves only a few members of the Goos family of her generation who were actively connected with the building of Lake Charles in the early days.
Survivors are one daughter, Mrs. Andrew Swice of Westlake and one grandchild; two brothers, Charles Fitzenreiter of Lake Charles, and Walter Fitzenreiter of Bel, La.; and three sisters, Mrs. Frank Gallaugher and Mrs. J. M. McCain of Lake Charles, and Mrs. H. A. Elliott of Westlake. Mr. Richards died about eight years ago.
Funeral services will be held at 10 A. M. Wednesday at the home of her daughter in Westlake, Rev. Father Crowley officiating. Interment will be in the Goos cemetery under the direction of the Hixson Funeral home.