Emma M. Goos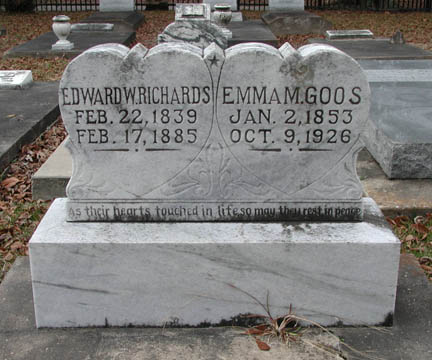 | | |
| --- | --- |
| Born: | January 2, 1853 in Ocean Springs, Mississippi |
| Died: | October 9, 1926 in Lake Charles, Louisiana |
| Buried: | October 10, 1926 in Goos Cemetery, Lake Charles, Louisiana (Map 2) |
| | |
| Father: | Captain Daniel Johannes Goos |
| Mother: | Katarina Barbara Moeling |
| | |
| Husband: | Edward Wilson Richards |
| | |
| Married: | December 30, 1869 in Lake Charles, Louisiana |
| | |
| Children: | Charles Henry Richards |
| | Edward Elias Richards, Sr. |
| | Georgiana Richards |
| | Guy Leonard Richards |
| | Relief Sterling Richards |
| | |
| | |
MRS. RICHARDS DEAD
Resident of Calcasieu and Lake Charles 65 Years Passed Away
Mrs. Emma M. Richards, resident of Lake Charles and Calcasieu parish for the last 65 years died today at the home of her daughter, Mrs. Maurice Rosenthal, in South Ryan Street. She had been ill for some time.
Mrs. Richards was 73 years of age. She was the daughter of Capt. and Mrs. Daniel Goos and was born on January 2, 1853 at Ocean Springs, Miss. She came to Lake Charles when 8 years of age.
In 1869 she was married to Capt. Edwin E. Richards. She is survived by four children, E. E. Richards, Chas. H. Richards, Mrs. Georgiana Jessen and Mrs. Maurice Rosenthal.
Funeral services will be held at 4 o'clock tomorrow afternoon from the residence of Maurice Rosenthal. Services will be conducted by Rev. R. H. Wynn, pastor of the Broad Street Methodist church. Burial will be in the Goos cemetery in Goosport.

Return to Emma M. Goos and Edward Wilson Richards