Helen S. Richards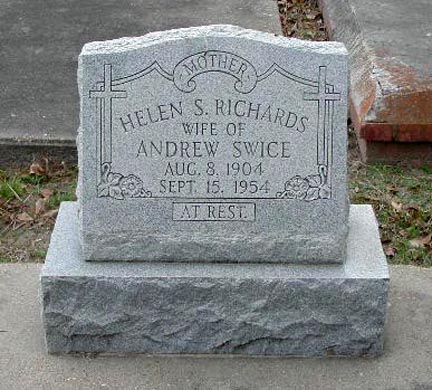 Lake Charles American Press, September 16, 1954:
Burial Rites Set Today for Mrs. Swice
Funeral services for Mrs. Helen Richards Swice, 50, West Lake resident for many years and a great-granddaughter of Calcasieu parish pioneers, will be held at 4 p.m. today at the Burke funeral home.
The Rev. M. J. Bertrand, an assistant pastor at the Catholic Church of the Immaculate Conception, will officiate.
Burial will be in the family's Goos cemetery in Goosport.
Mrs. Swice died at St. Patrick's hospital at about 5:45 p.m. yesterday.
Mrs. Swice is the wife of Andrew Swice, owner of the K and M general merchandise store in West Lake and their home is on Magnolia avenue in West Lake.
She was the great-granddaughter of the late Capt. Daniel Goos and Barbara Katherine Moeling Goos. Her parents were the late Charles Richards and Katherine Fitzenreiter Richards.
Besides her husband, she is survived by a son, Andrew Richards Swice of West Lake and a grandson.
Pall bearers will be Wilbur Ledbetter, Frank Daniels, Frank Gallaugher, Jr., Charles Elliott, Larry Elliott and H. C. Krause.