Barbara Christina Goos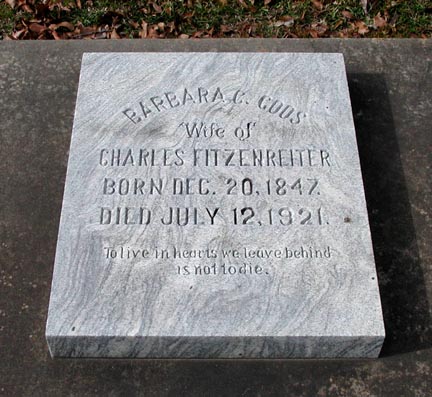 | | |
| --- | --- |
| Born: | December 20, 1847 in New Orleans, Louisiana |
| Died: | July 12, 1921 in Lake Charles, Louisiana |
| Buried: | Goos Cemetery, Lake Charles, Louisiana (Map 10) |
| | |
| Father: | Captain Daniel Johannes Goos |
| Mother: | Katarina Barbara Moeling |
| | |
| Husband: | Charles Fitzenreiter |
| | |
| Married: | March 19, 1868 in St. Peter's Episcopal Church, New Orleans, Louisiana |
| | |
| Children: | Cora Louise Fitzenreiter |
| | Charles Francis Fitzenreiter |
| | Katherine Moeling Fitzenreiter |
| | Marie Fitzenreiter |
| | Constance Fitzenreiter |
| | John Hamilton Fitzenreiter |
| | Barbara Christina "Babette" Fitzenreiter |
| | Walter Leo Fitzenreiter, Sr. |
| | Helen Letitia Fitzenreiter |
| | |
| | |
MRS. B. FITZENREITER
DIED THIS MORNING.
Funeral Arrangements Will Wait Arrival of Relatives
Mrs. Babette Fitzenreiter, 74 years old died at the home of her son Charles Fitzenreiter, at 518 Ford street this morning at 9:30 o'clock. No funeral arrangements have been made as yet nor no time for burial, awaiting arrival in the city of some of her children and of other relatives and friends.
Mrs. Fitzenreiter was the daughter of Capt. Daniel Goos, and was born in New Orleans, Dec. 20, 1847. She spent her life since childhood here, and was one of the old citizens of the city.
She is survived by the following children; Mrs. James McCain, Mrs. Chas. Richards, Mrs. Hartwell Elliott, Mrs. Frank Gallaugher, Charles Fitzenreiter, and Walter Fitzenreiter of Grabow.
Deceased was a sister of Mrs. Ellen Lock, Mrs. J. A. Bel, Mrs. W. W. Flanders, Mrs. E. M. Richards and Fred Goos.

Mrs. Barbara C. Fitzenreiter
An Appreciation.
Mrs. Barbara C. Fitzenreiter, daughter of Daniel Goos and Katherine B. Moeling, and wife of the late Captain Charles Fitzenreiter, died in this city July 12.
Mrs. Fitzenreiter was born in the city of New Orleans December 20, 1847, and came to Lake Charles in her young girlhood to live her long and sweetly, useful life.
If one were to ask what was the predominant, outstanding trait of "Babette" Fitzenreiter's character, the answer must be, loving sympathy. If trouble came, if dark clouds lowered, if the spirit was crushed with an unfair load, then Aunt Babette was sought and always the wisdom of her love brought healing and consolation.
True and faithful as wife, mother and friend, she demanded and received, always received the same truth and faithfulness from all who knew her.
As a daughter, she toiled with hand and brain to establish the family fortunes, and her last days were days of peace crowned by the love of her children and the warm affection of hosts of friends.
Her religion was of the sweet every day kind that like the flower's perfume, unseen permeated her every action; as the good priest said in his beautiful eulogy at her funeral, her mission was, not here to live forever, but to live forever. And so she lived and will live while all who knew her survive. But a little while before her death she asked a granddaughter to transcribe for her a prayer that greatly appealed to her. When it was finished and read to her, she smiled and whispered: "Wasn't that a beautiful ending?" and a few moments later a beautiful life came to a beautiful ending.
Working for the good of others here, she now rests with the saints Over There, where sorrow becomes joy, and tears are melted into smiles.