Edward Elias Richards, Sr.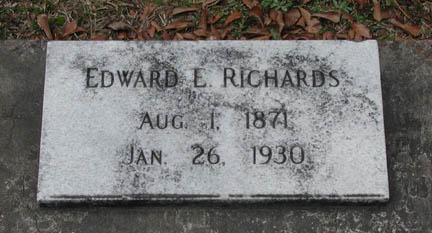 | | |
| --- | --- |
| Born: | August 1, 1872 in Rockport, Texas |
| Died: | January 26, 1930 in Lake Charles, Louisiana |
| Buried: | Goos Cemetery, Lake Charles, Louisiana (Map 2) |
| | |
| Father: | Edward Wilson Richards |
| Mother: | Emma M. Goos |
| | |
| Wife: | Frances Graham Daniels |
| | |
| Married: | May 20, 1903 in Forest Hill, Louisiana |
| | |
| Children: | Marie Frances Richards |
| | Guy Leonard Richards, Sr. |
| | Edward Elias Richards, Jr. |
| | |
| | |
E. E. RICHARDS
LUMBERMAN IS STROKE VICTIM
Passed Away At Home In City Sunday. Funeral Services at 3:30 P.M. Today
Was Successful Business Man and Identified With Many Interests
E. E. Richards, pioneer citizen and business man of Lake Charles, died at his home in Shell Beach Drive Sunday afternoon at 2:30 o'clock, following a fatal stroke Saturday night about 9 o'clock.
Funeral services will be held today from the residence at 3:30 P.M. today, Rev. Geo. F. Wharton, rector of the Church of the Good Shepherd, Episcopal, this city, officiating. Burial will be in north Lake Charles.
Pall bearers are Frank L. Hereford, Frank Roberts, N. E. North, Dan Landry, Tom Daniel, D. Reed, Leon Dever, and Arthur Wachsen.
Honorary pall bearers are Geo. Law, S. A. Knapp, E. N. Hazzard, W. B. Gabbert, W. S. Goos, Fred Lock, Lisle Peters, Paul J. Barbe, M. P. Paret, Frank Gallaugher, Allen H. McLain, B. R. Moses, R. Krause, W. H. Managan, Ben Musser, Dr. T. H. Watkins, Dr. J. G. Martin, Geo. M. King, A. O. King, M. Rosenthal, P. Thornton, Leon Locke, and M. P. Erwin.
Elias E. Richards was born in Rockport, Texas, August 1, 1872, a grandson of Daniel Goos, pioneer in Southwest Louisiana and founder of that portion of Lake Charles commonly known as Goosport. He was president of the Anacoco Lumber company of this city at the time of his death, and was also president of the Kelso Petroleum company. Deceased was the organizer of the Louisiana Western Lbr. Company, and its president up to several years ago when it was sold to its present owners, B. M. Musser and others. He was a stockholder and a director of the Murray-Brooks company, Lake Charles, and also interested in lands and properties over a wide area in Southwest Louisiana.
Several years ago he founded and operated the Richards Lumber company at Derry, La. At the time of his marriage to Miss Frances Daniel, he was operating the Hurricane Creek Lumber company, which he afterwards owned, at Forest Hill and at Guy, a short distance north of Oberlin. The mill of the Anacoco Lumber company which he recently built in Lake Charles, has timberlands in Vernon parish.
Mr. Richards was a member of the I. O. O. P. fraternity, and members of the local lodge will attend the funeral service in a body. Surviving near relatives are the widow, one daughter, Mrs. V. Gray, Corpus Christi, Texas; two sons, Guy Richards and E. E. Richards, Jr., Lake Charles; one brother, C. H. Richards, DeRidder; two sisters, Mrs. M. Rosenthal, Lafayette, and Mrs. Geo. M. Jessen, Lake Charles.
The deceased lived practically his entire life in Lake Charles, and was always identified with every forward movement for the progress of his city and Southwest Louisiana. He was among the successful lumbermen of the South, but in addition he owned and operated other properties and recently became identified with oil development. He owned the Breakers hotel in Corpus Christi, and had large cut-over land holdings in the development of which he was much interested. He had been in ill health for several weeks prior to the stroke which resulted in his death.