Georgiana Richards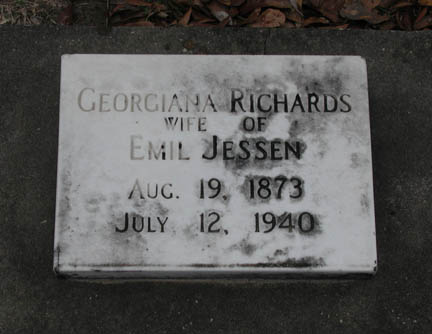 | | |
| --- | --- |
| Born: | August 19, 1873 in Corpus Christi, Texas |
| Died: | July 12, 1940 in Lake Charles, Louisiana |
| Buried: | July 13, 1940 in Goos Cemetery, Lake Charles, Louisiana (Map 2) |
| | |
| Father: | Edward Wilson Richards |
| Mother: | Emma M. Goos |
| | |
| Husband: | Emile S. G. Jessen |
| | |
| Married: | September 15, 1896 in Lake Charles, Louisiana |
| | |
| Children: | Edward Wilson Jessen |
| | Medora Jessen |
| | Emma May Jessen |
| | Relief Katherine Jessen |
| | Annie Frances Jessen |
| | Maurice Emile Jessen, Sr. |
| | Guy Leonard Jessen |
| | |
| | |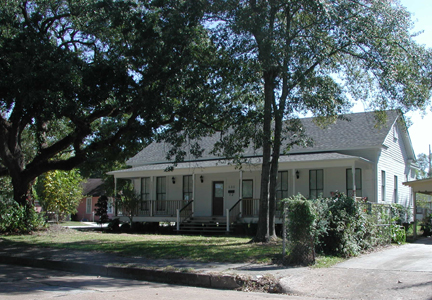 Richards-Jessen residence, 530 Lawrence Street 1
MRS. EMIL JESSEN RITES
SCHEDULED AT 4:30 P.M.
Mrs. Emil Jessen, 67, died at her home, 530 Lawrence street, at 8:45 P. M. Friday. Mrs. Jessen was born at Corpus Christi, Texas, August 19, 1873, and was the former Miss Georgiana Richards, a granddaughter of the late Captain Daniel Goos.
In 1896 she was married to Emil Jessen, and they made their home in Lake Charles during their marriage.
Survivors are two daughters, Mrs. A. J. Vaughn, Mrs. Herbert Schap, two sons, Maurice Jessen and Guy Jessen, all of Lake Charles; seven grandchildren; one great grandchild; one sister, Mrs. Maurice Rosenthal of Lafayette; seven step-children, George Jessen and Dan Jessen of Lake Charles; Mrs. Frank Powell of DeRidder; Mrs. Frank Catlin of California; Fred Jessen of Galveston, and Christian Jessen of Cameron.
Funeral services will be held Saturday afternoon at 4:30 o'clock at the residence, 530 Lawrence, with interment at the Goos cemetery under the direction of the Burke funeral home.

1 Jones, Mike. One of city's oldest residences receives restoration face-lift. Lake Charles American Press, October 19, 2003, p. B1.