Michael Wayne Hebert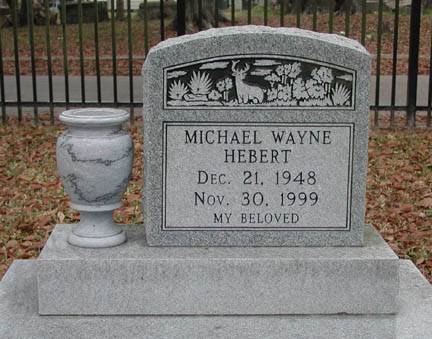 | | |
| --- | --- |
| Born: | December 21, 1948 in Lake Charles, Louisiana |
| Died: | November 30, 1999 in Houston, Texas |
| Buried: | December 4, 1999 in Goos Cemetery, Lake Charles, Louisiana (Map 2) |
| | |
| Father: | Wilbert Luke Hebert |
| Mother: | Vivian Katherine Goos |
| | |
| First Wife: | Sandra Kay Lee |
| | |
| Married: | August 12, 1972 in Lake Charles, Louisiana |
| Divorced: | August 1984 |
| | |
| Children: | John Michael Hebert |
| | Wayne Thomas Hebert |
| | |
| Second Wife: | Patricia Ann Duke |
| | |
| Married: | December 31, 1986 in Houston, Texas |
| | |
| | |
Lake Charles American Press, December 2, 1999:
Michael W. Hebert
PEARLAND, Texas – Funeral services for Michael W. Hebert, 50, will be at 1 p.m. today, Dec. 2, in South Park Funeral Home.
Chaplain Edwin A. Davis will officiate. Graveside services will be at 10 a.m. Saturday, Dec. 4, in Goss Family Cemetery in Lake Charles under the direction of Johnson Funeral Home.
Mr. Hebert died Tuesday, Nov. 30, 1999, in Houston.
He was a native of Lake Charles. He joined the Houston Police Department on June 1, 1971, entering the Police Academy Class 50. He was a lieutenant with the department and was assigned to the Southeast Patrol Division. He was the assistant coach for the Houston Police Gunners football team.
Survivors include his wife, Anne Hebert; and two sons, Wayne Hebert and John Hebert.
Memorial donations may be made to the Assist the Officers Foundation, 1602 State St., Houston, TX 77007, the family said.