Relief Katherine Jessen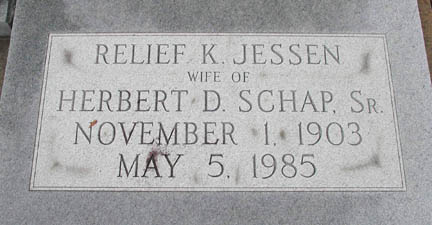 | | |
| --- | --- |
| Born: | November 1, 1904 in St. John's Island, Cameron Parish, Louisiana |
| Died: | May 5, 1985 in Sulphur, Louisiana |
| Buried: | May 6, 1985 in Goos Cemetery, Lake Charles, Louisiana (Map 2) |
| | |
| Father: | Emile S. G. Jessen |
| Mother: | Georgiana Richards |
| | |
| Husband: | Herbert Dudley Schap, Sr. |
| | |
| Married: | October 9, 1930 in Lake Charles, Louisiana |
| | |
| Children: | Herbert Dudley Schap, Jr. |
| | Georgia Lee Schap |
| | Edward Emil Schap |
| | |
| | |
Lake Charles American Press, Monday, May 6, 1983, p. 2:
MRS. HERBERT SCHAP
SULPHUR – Funeral services for Mrs. Herbert (Relief) Schap, 81, of 605 Alabama St. will be at 2 p.m. today, May 6, from Immaculate Conception Catholic Church.
The Revs. Roland Bernier and Francis Fitzsimmons will officiate. Burial will be in Goos Cemetery under direction of Hammer Funeral Home.
Mrs. Schap died at 6:57 a.m. Sunday in the Sulphur hospital.
A native of St. John's Island, she was a lifelong resident of Sulphur. Mrs. Schap retired from Cities Service in 1965 where she was a switchboard operator. She was a member of the Southwest Louisiana Chapter 1900 of the American Association of Retired Persons.
She was the great-granddaughter of Capt. Daniel Goos, the pioneer lumberman who came to the area in 1855 and located in what is now known as Goosport.
Survivors include one daughter, Mrs. Glen (Georgia Lee) Bonin of Sulphur; two sons, Edward (Ed) Schap of Gonzales and Herbert D. Schap of Lafayette; one brother, Guy L. Jessen of Hackberry; nine grandchildren and seven great-grandchildren.