George Lock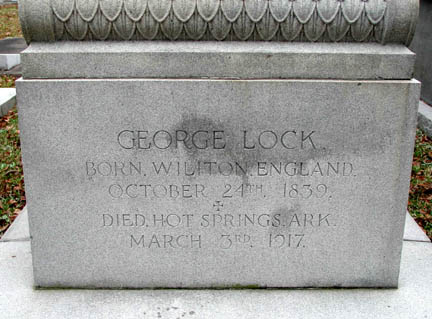 George Lock's sister was Elizabeth A. Lock Knight.

DEATH CLAIMS CAPT. GEO. LOCK

Died at Hot Springs at 9 o'clock this morning.

WAS BORN IN ENGLAND, IN 1839
----------
Long a Resident of This Section-Pioneer Lumberman-Prominent Financial Factor.
Special to American-Press.
Hot Springs, Ark., March 3rd.
Capt. George Lock died this morning at 9 o'clock at the Arlington Hotel, after a brief illness from pneumonia. He was taken ill last Wednesday morning a week ago.
The remains will be shipped this afternoon at 6 o'clock over the Iron Mountain, reaching Lake Charles about Monday noon. Widow and two grand daughters accompany remains. Funeral date announced later.
----------
Capt. George Lock, pioneer lumberman and business man of Lake Charles and Calcasieu parish died this morning at Hot Springs, Ark., at 9:00 o'clock, following a brief illness, resulting finally in congestion of the lungs. Capt. Lock, together with Mrs. Lock and the children of their son, Fred Lock, had gone to Hot Springs a month ago for the benefit of the baths, as Captain Lock had been suffering from rheumatism for some time. Two years ago he had had a similar attack and had spent a number of months at Hot Springs where he was greatly benefited.
Fred Lock, the son, received word yesterday that his father was low and he left last night on the Kansas City Southern for Hot Springs, and will reach there tonight or in the morning. With the veteran lumberman and business man when he passed away were his wife and the grandchildren referred to.
Though suffering from rheumatism, Capt. Lock had not been suffering unusually until within a day or two of his death. Last Monday he wrote a letter to his nephew, George W. Law, in which he stated that all were better and that they were enjoying their stay.
----------
FIRST MILL AT PRIEN
Capt. Lock's first entry in the lumber business in Calcasieu parish was at Prien Lake, where he constructed and operated a mill for several years immediately following his coming to Lake Charles which was 1868. Later, when the Prien Lake mill was burned, Capt. Lock operated the old mill at Bagdad for a time, and shortly afterward, in conjunction with C. H. Moore, Fred Whert, and Martin W. Ryan, formed the Lock-Moore Lumber Co., establishing the mill at Lockport, where it has remained since.
This mill was established in 1879, about the time the Southern Pacific, and, likewise the first railroad, was constructed to and through Lake Charles. The Mill to begin with was of small capacity. It has grown constantly since, until today has a capacity that renders it one of the big mills of the community. Capt. Lock was president, at the time of his demise, of the Lock-Moore Lbr. Co.; he was vice-president of the Edgewood Land & Logging Company of Lockport.
LED AN ACTIVE LIFE
The life of Capt. Lock was one of intense activity. He was born in Somersetshire, in the west part of England, and went to sea at the age of 14, which calling he followed until he came to Lake Charles 50 years ago. He started in as a cabin boy and rose through successive grades until he became captain and owner of vessels plying in all parts of the world.
PRESIDENT FIRST NATIONAL FOR YEARS
His life in this community was one devoted to the upbuilding of its interests. He was, aside from his interest and being the moving spirit in the lumber and logging companies with which he was identified, one of the initial workers for and organizer of the First National Bank, of which he was president for many years, in fact until the past two years.
PROMINENT IN INDUSTRIAL AFFAIRS
He was prominent in the industrial affairs of the community, and throughout the state, being president of the Lock-Moore Lumber Co., and had been president of the First National Bank, until recently when he was succeeded by his son, the late George T. Lock; he was still one of the directors of the First National Bank, was a director in the Lake Charles Trust and Savings Bank, also in the Lumberman's Mutual Fire Insurance Co. of St. Louis, and the Frost Johnson Lumber Co. also of St. Louis; and was vice president of the Edgewood Land & Logging Co. of Calcasieu parish. Since the recent death of D. R. Swift, Capt. Lock had been president of the Swift Coal and Lumber Company.
FORMER HEAD OF HOO HOOS
Capt. Lock was a member of the Masonic Lodge at Galveston, Texas, was a member of the local lodge of Elks, and was at one time Grand Snark of the Order of Hoo Hoo. He was always an active figure in these circles, and found a great deal of pleasure in the mingling with his companions in the meetings of these various orders.
SURVIVED BY WIFE, SON AND DAUGHTER
The deceased is survived by his wife, who before marriage was Miss Ellen Goos, daughter of Capt. Daniel Goos, together with a son, Fred, and one daughter, Mrs. M. P. Paret, of Oakland, Calif.
MARRIED IN 1869
Capt. Lock married in 1869, Ellen, daughter of Capt. Goos, who, as stated, survives him. Sisters and brothers of Mrs. Lock are; Mrs. J. A. Bel, Mrs. W. W. Flanders, Mrs. B. Fitzenreiter, Mrs. E. E. Richards, of Lake Charles; Mrs. Lockwood Williams of Glenmora, and Walter, Fred and Albert Goos of this place.
The deceased was a man of unusual vigor for a man of his years, and until the death of his son last summer had taken active part in many of the affairs that ordinarily interest and concern much younger people, showing thereby a youthful spirit which never deserted him and was largely responsible for his unusual health and vigor for a man near four-score mark in years.
BORN IN ENGLAND
Captain George Lock was born in England in November, 1839, and would have been 78 years of age next November. During his early manhood in England he was employed as a clerk in the offices of the London Northwestern Railway. He was not fond of clerical work, however, and gave up this position to go to sea. During his life as a sailor he traveled over the entire globe, and finally came to Galveston. During the civil war he was engaged in bringing supplies, traversing the Calcasieu river to the gulf and making many ports on the gulf coast. It was while he was in this position that he formed the acquaintance of Captain Dan Goos, and through him he came to Lake Charles, forming lumber organization which is now known as the Lock-Moore Lumber company.
LIVED IN MEXICO SHORT TIME
At one period of his life he lived in Mexico for a short time, but during all this interval he was either engaged in sea faring or the lumber business, and as those industries were closely allied in those days, they naturally combined in a way impossible in this day and age.
CONSPICUOUS IN CHURCH WORK
Captain Lock was always conspicuous in church work, and was a devout member of the Church of the Good Shepherd in this city, and for a great number of years was senior warden. The church always meant a great deal to Captain Lock, and when he was at home, even when he was in delicate health, he never missed a service. His generosity to his church will be remembered by every parishioner, and he will be mourned by them all, as he was loved and revered by the congregation having been one of the pioneers here in the Anglican church.
ONE OF THE FOUNDERS
When the Episcopalians first established the little frame church which stood on Hodges street, Captain Lock was instrumental in the founding of the little edifice, and from that time on until his death, he was a benefactor, and had influence in the church circles not only in Lake Charles, but throughout the state.
Since the death of his son, George T. Lock, last August, Captain Lock has been failing, though he held up bravely until the very last, he really never recovered from the shock of his son's tragic death in the automobile accident near Galveston last summer.

Ross, Nola Mae Wittler, Lake Charles American Press, February 7, 1988:
Capt. George Lock built sawmill empire
George Lock, born in humble circumstances in England, found little hope for the future in his native land. By the time he was 14, he'd gone to sea, looking for a trade and new horizons.
Within 10 years he was a schooner captain, sailing from England to the Gulf Coast of Louisiana.
At the port of Galveston, Texas, Lock met and became friends with another schooner captain – Daniel Goos – who had settled and built a home in north Lake Charles.
Swept along by the enthusiasm Goos displayed about Lake Charles, apt. George Lock decided to make Calcasieu Parish his home too.
That decision by Capt. Lock in 1868 led to the growth of a full-fledged little town named Lockport on "Old River," where PPG Industries is now located.
Capt. Lock was 29 years old when he arrived in Calcasieu, and he went to work in a hurry. He began operating a sawmill called Bellview at the head of Prien Lake now owned by the Taussig family.
Originally, Capt. Lock's estate contained nearly all of the property along the lake, from what is now Prien Lake Park to the Chalkley homes.
Next to the sawmill, Lock built a home. Three of his children were born there during the 1870s.
From his land, Lock could look across Prien Lake to the Westlake side of the river, where he later built Lockport.
The Bellview Sawmill burned in the late 1870s, and for a time Lock worked in a sawmill in Bagdad, owned by Peter Platz and Dr. A. H. Moss – whose daughter, Delia Moss, later married Lock's son.
Then Lock joined C. H. Moore, a Galveston businessman who later moved to California, to build the Lock-Moore Mill at Lockport. It soon grew into one of the leading mills in Calcasieu Parish.
Dr. Donald Millet, in his article, The Lumber Industry of Imperial Calcasieu: 1865-1900, spoke of Capt. Lock as "enterprising and far-visioned, who like Daniel Goos, saw possibilities in the opening phase of the industry."
Before the turn of the century, Lockport had at least 50 homes, a church, school, commissary, a large hotel – and the huge Lock-Moore Sawmill. Over 200 men were employed there during its heyday.
Capt. George Lock married Ellen Goos, daughter of Capt. Daniel Goos in 1869.
They had four children – Daniel, Fred, Letitia Paret and George T. Lock. In the late 1870s, Lock moved his family to Lockport....
"The commissary at Lockport was a large, two-story building, with a meat market and grocery store on the bottom floor. Upstairs were furniture and dry goods, and several offices. In the back was the feed store, next to the railroad tracks....
"The Lockport Hotel was across from the Commissary. It had a huge dining room, where we had socials and dances.
"I believe Captain George Lock's home was near the river. And George Law also had a nice home there."
Captain Lock's son – George T. Lock – was successful in getting the Clooney Shipyards to move to Lockport in the early 1900s.
At Lockport, the Clooney yard grew until it became the largest ship-building business in the southwest....
When Captain George Lock was 71 years old, he and his wife moved from Lockport into Lake Charles.
"Their home was on the northwest corner of Broad and Reid streets where the Imperial 400 Motel is now located," says Mrs. Lock Paret Sr., the former Jane Winterhaler who married Capt. George Lock's grandson. "The homes of sons and grandsons were nearby.
"After my marriage to Captain Lock's grandson, Lock Paret Sr., my husband worked at the Lock-Moore Mill exactly three weeks before it closed.
"The 1918 storm had destroyed the mill. It was rebuilt, only to be shut down completely five years later because all of their timber was gone."
George T. Lock, son of Captain George Lock, had been tragically killed in an auto accident in 1916 when he was 32 years old.
Captain George Lock died the next year, never recovering from the loss of his son.
After Lock's death, his son-in-law, Milner Paret, who had come to the area as the chief construction engineer for the Kansas City Southern Railroad, took over management of the Lock estate and business, as well as construction of the Lock Park and playground, which Mrs. Lock gave to the city.
In the 1930s, the land where Lockport had been located was sold to Olin Mathieson. During World War II, the government used part of the land to build a magnesium plant. After the war, the plant was sold to PPG.
Meanwhile, Captain George Lock's grandson, Lock Paret Sr., saw what the loss of timber had done to the Lock-Moore mill, and began working for reforestation.
Elmer Shutts, in an article on the lumber industry after 1900, wrote of Paret's dedication to reforestation.
Lock Paret Sr. mixed his enthusiasm with clear logic and a genuine concern for the views of others. He was successful in winning over area sheep and cattle raisers, who initially thought they'd lose their pasture lands.
Paret not only overcame the early opposition, but made friends of the livestock owners, opening the way for reforestation on a large scale.
Paret's son, Lock Paret Jr. of Lake Charles, great grandson of Captain George Lock and a graduate forester, carries on the family dedication to renew the great timber resources of the area.
"Edgewood Land and Logging Co. owned 55,000 acres of land which had been completely denuded of timber by our sawmill," says Paret.
"We planted seven million trees per year until the majority of that 55,000 acres was completely reforested."
While the one-thriving town of Lockport has almost been forgotten, the heirs of Captain George Lock continue to help renew the great reaches of timber that brought the town into existence.
And citizens of Calcasieu Parish continue to reap benefits from the schooner captain's first venture into Southwest Louisiana's land of rivers and sawmills.