Frederick Goos Lock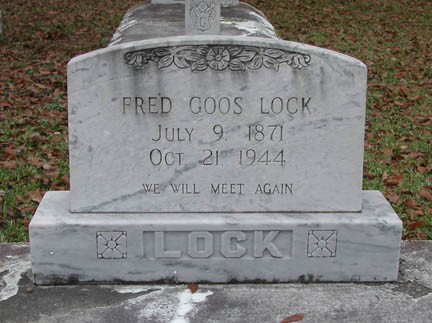 | | |
| --- | --- |
| Born: | July 9, 1871 at Prien Lake, Lake Charles, Louisiana |
| Died: | October 21, 1944 in Welch, Louisiana |
| Buried: | October 23, 1944 in Goos Cemetery, Lake Charles, Louisiana (Map 2) |
| | |
| Father: | George Lock |
| Mother: | Elmina Martha "Ellen" Goos |
| | |
| First Wife: | Mamie Louise Miller |
| | |
| Married: | |
| Ended: | July 24, 1914 in Sulphur, Louisiana (death of wife) |
| | |
| Children: | Irma Letitia Lock |
| | Elaine Matilda Lock |
| | Selma Miller Lock |
| | |
| Second Wife: | Edna Goodwin |
| | |
| Married: | |
| Ended: | August 17, 1926 (death of wife) |
| | |
| Third Wife: | Virginia Guillot |
| | |
| Married: | |
| | |
| | |
Mamie Louise Miller's sister, Hilma Elmora Miller, married Frederick Goos Lock's first cousin, Arthur Gustav Wachsen, son of Henry Otto Wachsen, Sr. and Rosalie Alexandria Goos.


Lake Charles American Press, October 23, 1944:
FRED GOOS LOCK
TAKEN BY DEATH
Funeral Services Will Be Held in Lake Charles
Funeral services for Fred Goos Lock, 73, who died from a sudden heart attack late Saturday afternoon at Welsh, will be held at 3 o'clock Monday afternoon from the home of his nephew, Lock Paret, 904 Broad street, with Rev. George F. Wharton, rector of the Church of the Good Shepherd, officiating. Burial will be at the Goos family cemetery, with the Hixson funeral home in charge.
Pallbearers will be Edgar Miller, Earl Shipp, P. T. Sartwelle, Victor Guillotte, Arthur L. Gayle and Rev. J. S. Frederick.
Mr. Lock was widely known as a lumberman, being a member of the firm of the Lock-Moore Lumber company of Lockport, of which his father, Captain Lock was the senior partner. After the mill ceased operation, Mr. Lock became engaged in the livestock industry and farming, and for the last ten years had made his home in the Welsh community. He was attending a cattle sale Saturday afternoon when he was stricken with a heart attack, and died suddenly. He was a member of the Episcopal church.
Survivors are his wife; three daughters, Mrs. Fred Tieman of Vinton, La., Mrs. L. J. Benckenstein of Beaumont, Mrs. Juan Martinez Pla of Los Angeles, Calif., two step-daughters, Mrs. Brady Stell and Mrs. W. J. Gross of Welsh, a step-son, Sidney Chesson, stationed in Calif., four grandchildren, Sgt. Fred Tieman, Jr., San Francisco, Fred Lock Benckenstein, Beaumont, Miss Elaine Tieman, Vinton, and Mrs. Fitzhugh Elder, Staunton, Va. One great-grandchild, Elaine Lock Elder, and one sister, Mrs. M. P. Paret of Lake Charles.