Ellen May "Nellie" Perkins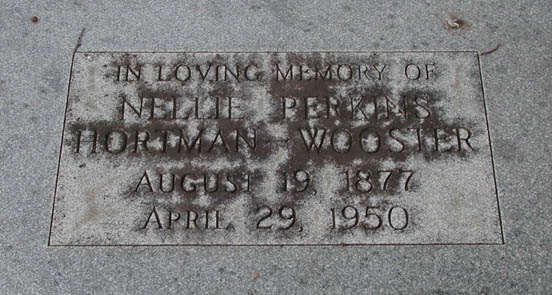 | | |
| --- | --- |
| Born: | August 19, 1877 in Lake Charles, Louisiana |
| Died: | April 29, 1950 in Westlake, Louisiana |
| Buried: | May 1, 1950 in Goos Cemetery, Lake Charles, Louisiana (Map 9) |
| | |
| Father: | Reese Washington Perkins |
| Mother: | Fredericke Goos |
| | |
| First Husband: | Claude Hortman, Sr. |
| | |
| Married: | |
| | |
| Children: | Margaret Ellen Hortman |
| | Claude Hortman, Jr. |
| | |
| Second Husband: | I. S. Wooster |
| | |
| Married: | Jennings, Louisiana |
| | |
| | |
Lake Charles American Press, May 1, 1950:
Mrs. Nellie Wooster, Member of Pioneer Parish Family, Dies
Mrs. Nellie Perkins Wooster, 70, well known resident of Lake Charles and West Lake for many years and a member of a pioneer Calcasieu parish family, died at about 3 p.m. yesterday after an illness of about ten days.
Funeral services will be held at 3 p.m. today at the Burke funeral home with the Rev. John McKee, rector of St. Paul's Episcopal church in Orange, Texas, officiating.
Burial will be in the Goos family cemetery in Goosport.
Pallbearers will be Henry Semple, H. C. Krause, Richard Weeks, Raymond Perry, N. A. Perella, G. Lock Paret, A. G. Benckenstein and Calvin Starks.
Born in West Lake, she was the daughter of the late Reese Perkins and Fredricka Goos and the granddaughter of the late Capt. Daniel Goos, early settlers of Lake Charles.
Mrs. Wooster had spent a large part of her life in and about Lake Charles and West Lake and was the former owner of the Westwood subdivision near West Lake. She had lived for about 30 years in New Orleans and also in Cuba for a period of time.
At the time of her death she was residing at 3912 Sunset avenue. She had been in failing health for the past few years.
Mrs. Wooster is survived by two grandsons, C. L. Benckenstein of Vinton and C. H. Benckenstein of Orange, Texas, and six great-grandchildren.