Claude Hortman, Jr.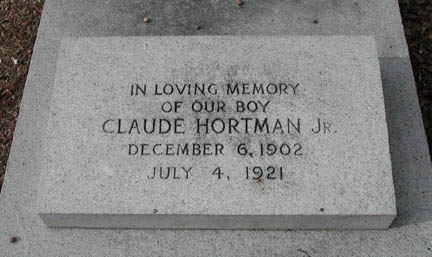 Lake Charles American Press, July 5, 1921, p. 7:
CLAUDE HORTMAN, JR.,
DROWNED AT ORLEANS.
WILL BE BURIED HERE
Word was received in the city this afternoon to the effect that the body of Claude Hortman, Jr., 18 years of age, son of Claude Hortman, for many years a resident of Lake Charles, will be brought here for burial.
Hortman who was a frequent visitor to Lake Charles, was drowned Monday afternoon in Lake Pontchartrain, near the mouth of Industrial canal, New Orleans, along with Catherine Mary Hortman, 15 years old, and Kennedy Killy, of New Orleans. While swimming off shore they were caught by a sudden storm and swept from shallow water into a deep pocket in the bed of the lake.
Claude Hortman succeeded in getting one of his cousins and Miss DeAmmes to shallow water. In returning for the other cousin he was drowned.
Hortman's remains will reach the city over the Southern Pacific at 6:20 A. M. Thursday morning July 7th. The funeral will be conducted from the train and burial will be at Goos Cemetery. The information reaching here states that the Hortman girl is the daughter of Mr. Hortman's relative, and her remains will be put to rest in New Orleans. All the bodies were recovered, the two children being located.