Claude Hortman, Sr.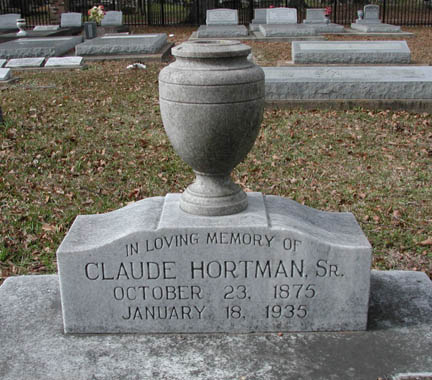 CLAUDE HORTMAN
MEMBER PIONEER FAMILY, IS DEAD
Claude Hortman, 59, a leading southern lumberman, died from a heart attack at 10 o'clock last night at his home in Westlake. Mr. Hortman had suffered with his heart for many years, but had only gone to bed as late as last Sunday.
Born at Nibletts Bluff, Mr. Hortman was a member of a pioneer family of Calcasieu parish, and was reared at Hortman's ferry, named for his parents. He left here 26 years ago to go to Muskigee, Okla., to represent the National Packing company. He had been manager of the Houston Packing company in Lake Charles. From Muskogee, Mr. Hortman went to New Orleans where he also was representative of the National Packing company.
FORMED BUILDING FIRM
At New Orleans, 22 years ago, Mr. Hortman entered the real estate, and lumber and building material business on a large scale. In this field he consolidated a large number of lumber yards and planing mills of New Orleans into the Hortman-Salmon Lumber company, which firm he served as manager until his health forced him to give up the active duties of this work in 1932.
At that time he retired to what he always referred to as home – Lake Charles – where he created and developed a real estate business, specializing in subdivision work, and in which, despite a serious illness which restricted his working hours to short days, was highly successful.
SURVIVING RELATIVES
Surviving Mr. Hortman are his wife, Mrs. Nellie Perkins Hortman; a daughter, Mrs. Charles H. Benckenstein of Vinton; two grandsons, Claude and Charles Benckenstein, Jr.; his mother, Mrs. Hortman of Houston, Texas; two brothers, Carl and John Hortman of Houston; four sisters, Mrs. Claude Townsend, Mrs. G. A. Newman, Mrs. J. D. Franklin, and Mrs. J. F. Fox. His father died in Houston at the age of 89 last November.
Funeral services were conducted at 4 o'clock this afternoon from the home in Westlake with Rev. Geo. W. Wharton of the Episcopal church officiating. Burial was in Goos cemetery in Goosport.