Edward Elias Richards, Jr.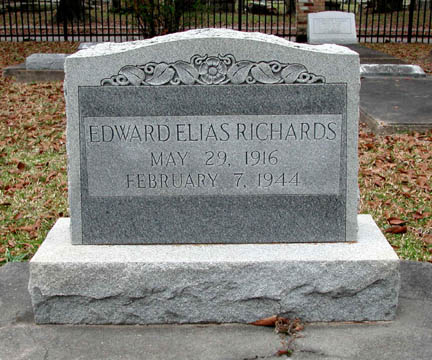 OIL DRILLER AT HACKBERRY FATALLY INJURED
Edward Elias ("Dooley") Richards, 27, a driller in the employ of Union Sulphur company, sustained injuries Sunday about noon at the Hackberry oil field which resulted fatally when he died Monday at St. Patrick's hospital.
Details of the accident which caused the death of the young Lake Charles man were not immediately available.
He is survived by his wife, Mrs. Rubha Trotter Richards, and his mother, Mrs. Frankie Daniel Richards, both of Lake Charles; and a sister, Mrs. Frank Griffin, and a brother, Guy Richards, both of Orange, Texas. His father was the late E. E. Richards.
Funeral services will be conducted Tuesday at 3:30 P.M. from the residence, 509 Seventh St.
Burial will be in Goos cemetery with Burke funeral home in charge.