Willie Wardwell Severs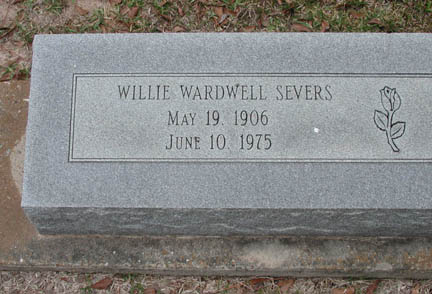 | | |
| --- | --- |
| Born: | May 19, 1906 in Lake Charles, Louisiana |
| Died: | June 10, 1975 in Lake Charles, Louisiana |
| Buried: | June 12, 1975 in Goos Cemetery, Lake Charles, Louisiana (Map 2) |
| | |
| Father: | Albert Forest Severs, Sr. |
| Mother: | Maggie Louise Goos |
| | |
| Wife: | Hazel Gertrude Musgrove |
| | |
| Married: | July 12, 1930 in Lake Charles, Louisiana |
| | |
| Child: | Mary Louise Severs |
| | |
| | |
Lake Charles American Press, June 12, 1975:
WILLIE W. SEVERS
Funeral services for Willie W. Severs, 69, of 601 Kirkman St. were at 10 a.m. today, June 12, in Hixson Funeral Home.
The Rev. Henry Blount, pastor of First United Methodist Church officiated. Burial was in Goos Cemetery.
Mr. Severs died at 7:30 p.m. Tuesday in a local hospital.
He was a native and lifelong resident of Lake Charles and a retired accountant for Muller Royalties Co. He was a direct descendant of Cap. Daniel Goos, an early Lake Charles settler.
Survivors are his wife, Mrs. Hazel Musgrove Severs; one daughter, Mrs. Robert Ann Pavy of San Carlos, Calif.; one brother, Albert F. Severs of Shreveport; two sisters, Mrs. Jules Meyerson of Shreveport and Mrs. D. H. Johnson of Duncan, Okla.; and three granddaughters.