Albert Forest Severs, Sr.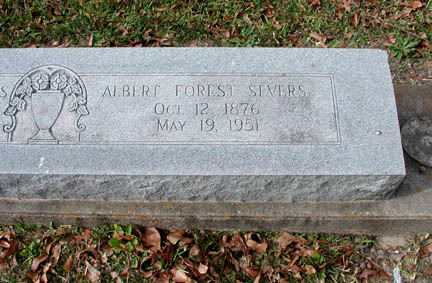 | | |
| --- | --- |
| Born: | October 12, 1876 in Clinton County, Maryland |
| Died: | May 19, 1951 in Shreveport, Louisiana |
| Buried: | May 21, 1951 in Goos Cemetery, Lake Charles, Louisiana (Map 9) |
| | |
| Father: | Charles Henry Severs |
| Mother: | Mary Elizabeth Calvird |
| | |
| Wife: | Maggie Louise Goos |
| | |
| Married: | October 26, 1904 in Lake Charles, Louisiana |
| | |
| Children: | Willie Wardwell Severs |
| | Albert Forest Severs, Jr. |
| | Rose Severs |
| | Florence Flanders Severs |
| | |
| | |
From Rose Severs Meyerson:
Albert Forest Severs Sr. was first a traveling photographer. He came to Lake Charles from Missouri. He then became the Office Manager and Bookkeeper for the Bel Lumber Company at Bel, Louisiana. When the lumber business played out, they moved to Shreveport.
John (?) Peters, who fought with George Washington at Valley Forge, had a daughter named Elizabeth. She first married a Mr. Brown, who died. She next married William Calvird, a plantation and slave owner in Kentucky. Their daughter was Mary Elizabeth Calvird of Louisville, Kentucky, who married Charles Henry Severs of Franklin, Kentucky.
Charles Henry Severs's father was John Sevier of Kentucky, whose father served in the Court of Louis XIV of France. He came to Kentucky or Tennessee, was a governor of the Tennessee Territory and an Indian fighter. When the district was divided, he dropped his title and went by John Severs, traced back to Pocahontas and Lord Baltimore. (This information is mainly from my aunt, now deceased. She said he was also a "famous" runner.)


Lake Charles American Press:
Albert F. Severs Dies at Age 74
Albert Forrest Severs, 74, died at Shreveport early Saturday night. He had been a resident of Lake Charles 46 years.
Funeral services will be held at 11 a.m. at Hixson's Funeral Home, with the Rev. John J. Rasmussen officiating. Burial will be in the Goos cemetery in Lake Charles.
Survivors include his wife; two sons, W. W. of Lake Charles and A. F. of Shreveport; two daughters, Mrs. J. H. Meyerson, Shreveport, and Mrs. D. H. Johnson also of Shreveport; one sister, Mrs. Bessie Kibbey, Clinton, Mo.
Graveside services will be conducted by Lake Charles Masonic Lodge No. 400.