Hazel Gertrude Musgrove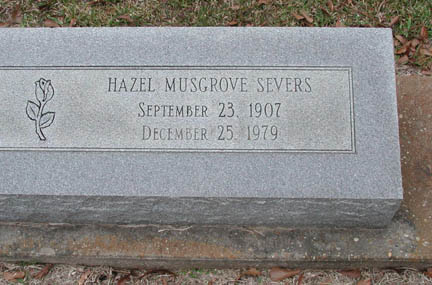 | | |
| --- | --- |
| Born: | September 23, 1907 in Reeves, Louisiana |
| Died: | December 25, 1979 in San Carlos, California |
| Buried: | December 31, 1979 in Goos Cemetery, Lake Charles, Louisiana (Map 2) |
| | |
| Father: | William? Musgrove |
| Mother: | Mamie Althea Hodges |
| | |
| Husband: | Willie Wardwell Severs |
| | |
| Married: | July 12, 1930 in Lake Charles, Louisiana |
| | |
| Child: | Mary Louise Severs |
| | |
| | |
Lake Charles American Press, December 30, 1979:
MRS. HAZEL SEVERS
Funeral services for Mrs. Hazel Severs, 72, of San Carlos, Calif. will be at 10:30 a.m. Monday, Dec. 31, in Hixson Funeral Home chapel.
Dr. Benedict Galloway will officiate. Burial will be in Goos Cemetery.
Mrs. Severs died at 8:30 a.m. Tuesday in Redwood City, Calif.
A native of Reeves, she had lived most of her life in Lake Charles. She was a member of Ruth Chapter of the Eastern Star and of the Amaranth.
Survivors include one daughter, Mrs. Mary Pavy of San Carlos; two brothers, R. C. Musgrove of Opelousas and J. R. Musgrove of Reeves; three grandchildren.