Ward Anderson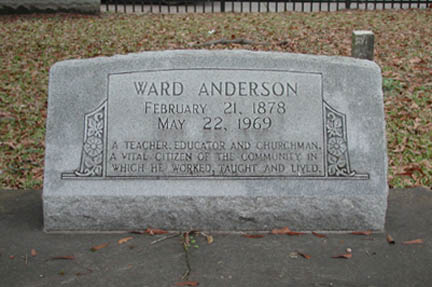 | | |
| --- | --- |
| Born: | February 21, 1878 in Aledo, Illinois |
| Died: | May 22, 1969 in Houston, Texas |
| Buried: | May 24, 1969 in Goos Cemetery, Lake Charles, Louisiana (Map 1) |
| | |
| Father: | |
| Mother: | |
| | |
| Wife: | Elizabeth H. Richardson |
| | |
| Married: | 1909 in Lake Charles, Louisiana |
| | |
| Children: | Richard Alan Anderson |
| | Robbin C. Anderson |
| | |
| | |
Lake Charles American Press, May 23, 1969, p. 1:
Former head of city schools dies
Ward Anderson, 91, superintendent of Lake Charles city schools from 1920 to 1948, when he retired, died at 6 p.m. Thursday in Methodist Hospital in Houston.
Funeral services will be at 10 a.m. Saturday in First United Methodist Church.
The Rev. J. Henry Bowdon, pastor, will officiate. Burial will be in Goos Cemetery under the direction of Hammer Funeral Home.
The body will be moved from the funeral home to the church at 9 a.m. Saturday.
Mr. Anderson moved to Houston about one year ago to reside with a son and his family. He recently fell and broke a hip.
A native of Aledo, Ill., he moved to Hawk Eye Plantation near Fenton with his parents in 1888 and later to Lake Charles. His teaching career began in 1896 in a school north of Jennings. He returned to Lake Charles in 1904 to be principal of Central School where he had once been a student. He was also football coach at Lake Charles High School.
Mr. Anderson later attended the University of Missouri and a university in Chicago and LSU. He assumed the principalship at DeRidder High School in 1911 and was also football and basketball coach in that area.
In 1915 he became superintendent of East Carroll parish schools and retained this post until coming to Lake Charles in 1920 as superintendent. During his tenure, the school system moved out of debt into a strong budgetary position. He was also responsible for standardizing the school program in the city schools.
Mr. Anderson was a member of the First United Methodist Church and on the board of stewards. He was a honorary life member of the Rotary Club and took active roles in professional organizations such as Louisiana Superintendents Association and Louisiana Teachers Association.
His wife was the former Elizabeth H. Richardson. They were married in 1909.
Survivors are tow sons, Richard Anderson, a Houston lawyer, and Robbin C. Anderson, assistant to the president and dean of the College of Arts and Science at the University of Arkansas in Fayetteville; two sisters, Mrs. Lucille Hart of Los Angeles, Calif., and Mrs. Lenora Pope of Brownsville, Tex., and seven grandchildren.