Elizabeth H. Richardson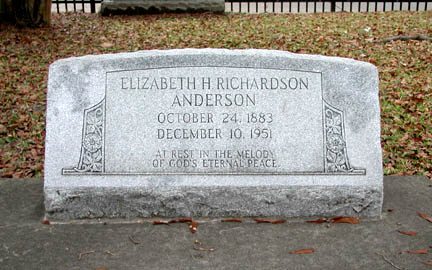 | | |
| --- | --- |
| Born: | October 24, 1883 in Delta, Louisiana |
| Died: | December 10, 1951 in Lake Charles, Louisiana |
| Buried: | December 11, 1951 in Goos Cemetery, Lake Charles, Louisiana (Map 1) |
| | |
| Father: | John Samuel Richardson |
| Mother: | Lucy Colyer |
| | |
| Husband: | Ward Anderson |
| | |
| Married: | 1909 in Lake Charles, Louisiana |
| | |
| Children: | Richard Alan Anderson |
| | Robbin C. Anderson |
| | |
| | |
Lake Charles American Press, December 11, 1951, p. 1:
Mrs. Anderson Rites Slated For Today
Final rites for Mrs. Elizabeth Richardson Anderson, 68, wife of former City School Superintendent Ward Anderson now retired, were to be held at 3 p.m. today at First Methodist church.
Officiating was to be the Rev. Carl Lueg, pastor, the Rev. J. Henry Bowdon of Shreveport, former pastor of First church here, and the Rev. T. V. Herndon of Pineville, former pastor of Trinity Baptist church here.
Burial in charge of the Burke funeral home was to be in Goos cemetery. Pallbearers will be A. M. Mutersbaugh, G. W. Swift, Jr., G. W. Ford, Charles Caston, Clarence L. Shaddock and Howard H. Hebert.
The body will be at the family home 1036 Kirkman St., until the hour of services in the church.
Mrs. Anderson died at 1:30 p.m. yesterday at St. Patrick's hospital after an extended illness.
Besides her husband she is survived by two sons, Richard A. Anderson, member of the local law firm of King, Anderson and Swift, and Robbin C. Anderson, assistant professor of chemistry and naval research at the University of Texas in Austin.
Born in Delta, La., in Madison parish on October 24, 1883, she was the daughter of John Samuel Richardson and Lucy Colyer Richardson of Kentucky.
Her paternal grandparents, Charles Bruce Richardson and Elizabeth Bosworth Richardson, were pioneer settlers in Louisiana and original owners of immense land grants with headquarters at Lake Providence where they settled. They reportedly organized and named Carroll parish now divided into East and West Carroll parishes. Their great plantation, "Monticello," was destroyed by federal forces foraging during the siege of Vicksburg in 1863.
Mrs. Anderson was educated in the small school at Delta, the normal school at Natchitoches and Peabody college at Nashville, Tenn.
She later taught school in her home town and in Lake Charles until she was married in 1910 to Mr. Anderson who served as superintendent of city schools here from 1920 to 1948.
An active civic and church worker all of her life, Mrs. Anderson is a member and former officer of the Enterprise club, the United Daughters of the Confederacy, the Daughters of the American Revolution, Review club, and the Woman's Society of Christian Service of the First Methodist church.
In former years she helped organize the first curb market in this city, a colored nursery for children of working mothers and a milk fund for underprivileged children in public schools.
She was also active in civilian relief work, including Red Cross service, and helped organize the USO here in World War II, working regularly in the canteen.
She participated in the first of the Young Men's Christian association membership drives and also in the house to house canvass for the wartime sale of government bonds.
Mrs. Anderson was especially interested in all phases of her church work, particularly the WSCS, in which organization she was an officer and an active member at the time of her death.
Other survivors include one brother, T. C. Richardson of Pahokee, Fla., one sister, Mrs. R. L. Kain of Paris, Texas, and five grandchildren.