Selma Miller Lock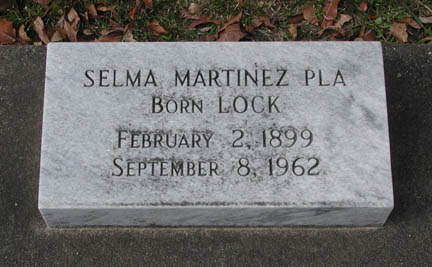 | | |
| --- | --- |
| Born: | February 2, 1899 in Lockport, Calcasieu Parish, Louisiana |
| Died: | September 8, 1962 in Los Angeles, California |
| Buried: | September 12, 1962 in Goos Cemetery, Lake Charles, Louisiana (Map 9) |
| | |
| Father: | Frederick Goos Lock |
| Mother: | Mamie Louise Miller |
| | |
| Husband: | Juan Martinez Pla |
| | |
| Married: | December 3, 1934 in Vinton, Louisiana |
| | |
| | |

Lake Charles American Press:
PLA-LOCK
Sincere interest and good wishes of hosts of friends is centered in the marriage of Miss Selma M. Lock, daughter of Mr. Fred G. Lock, to Mr. Juan Martinez Pla of Los Angeles, Calif. which was quietly, though beautifully solemnized at the home of the bride's sister, Mrs. Fred Tieman, in Vinton this afternoon at 3 o'clock.
A setting of unusual beauty was fashioned of ferns and foliage and candles in floor candelabra diffused a soft glow over the reception rooms.
The bridal table, laid with a lovely lace cloth, held the beautiful wedding cake as center ornament, and white tapers gleamed in candelabra placed at opposite ends.
The Rev. George Wharton, rector of the Church of the Good Shepherd read the impressive service in the presence of only the immediate relatives. The bride was given in marriage by her father, and Mr. Fred Tieman, the bride's brother-in-law, served as best man to the bridegroom. The wedding march was rendered by Miss Ray Kent, pianist, and Miss Alice Kent, violinist, both of Beaumont, and during the ceremony they played "Because."
The bride was charming in an exquisite model of blackberry lace, and the same lustrous shade was repeated in her shoes and lovely accessories. She wore a corsage of orchids.
Mrs. Pla is a member of old and prominent Lake Charles families. She is a granddaughter of the late Capt. and Mrs. George Lock, and a granddaughter of the late Mr. Charles G. Miller and Mrs. Matilda Miller. She was born and reared in Lake Charles, but for the past few years has made her home with Mrs. Tieman in Vinton. She attended the Lake Charles schools, and the Chatham Episcopal Institute in Chatham, Va. Mrs. Pla is a favorite with a wide circle of friends in Lake Charles, Vinton, and Beaumont, who regret that she goes else where to make her home.
Following the ceremony, Mr. and Mrs. Pla left on a wedding trip to points in the East. They will make their home in Los Angeles, Calif., where Mr. Pla, formerly with the Metropolitan Opera Company is now associated with the Fox Studios.
Lake Charles American Press, September 9, 1962:
MRS. JUAN PLA RITES ARE SET
Services Set Wednesday in Lake Charles
For Los Angeles Resident
LAKE CHARLES, Sept. 9 (Spl) – The body of Mrs. Juan Martinez Pla, 63, of Los Angeles, Calif., will arrive in Lake Charles at 4 p. m. Tuesday and will be at the Hixson Funeral Home.
Funeral services will be held at 3 p. m. Wednesday at the Church of the Good Shepherd. The Rev. Robert L. Crandall, rector, will officiate. Burial will be in Goos Cemetery.
Lockport Native
Mrs. Pla died Saturday afternoon at the California Lutheran Hospital in Los Angeles.
Born in Lockport, La., she had lived in Lake Charles and moved to California 25 years ago.
Two Sisters Survive
Her great-great-grandfather was Capt. Daniel Goos, founder of Goosport Community, North Lake Charles. She was a granddaughter of the late Capt. and Mrs. George Lock and Mr. and Mrs. Charles Miller and her parents were the late Mr. and Mrs. Fred Lock, all prominent residents of this area.
She is survived by two sisters, Mrs. Fred Tieman of Lake Charles and Mrs. L. J. Benckenstein of Beaumont.