Juan Martinez Pla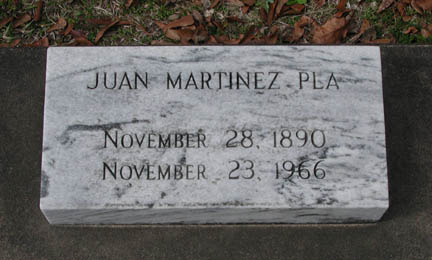 | | |
| --- | --- |
| Born: | November 28, 1890 in Bartholina, Spain |
| Died: | November 23, 1966 in Santa Barbara, California |
| Buried: | November 28, 1966 in Goos Cemetery, Lake Charles, Louisiana (Map 9) |
| | |
| Father: | |
| Mother: | |
| | |
| Wife: | Selma Miller Lock |
| | |
| Married: | December 3, 1934 in Vinton, Louisiana |
| | |
| | |
Juan Martinez Pla acted in several Spanish language films in the 1930s. See The Complete Index to World Film since 1895 http://www.citwf.com/person344341.htm.

Lake Charles American Press, Saturday, November 26, 1966, p. 11:
JUAN MARTINEZ PLA
Graveside services for Juan Martinez Pla of Santa Barbara, Calif., will be at 10 a.m. Monday in the Goos Cemetery.
Mr. Pla, a member of the Episcopal Church, was born in Bartholina, Spain. He sang with the Metropolitan Opera in New York and throughout the continent of Europe and also made foreign movies.
Survivors include a number of nieces and nephews in Lake Charles.
His wife was the late former Selma Lock of Lake Charles.