Mildred Ruth Fitzenreiter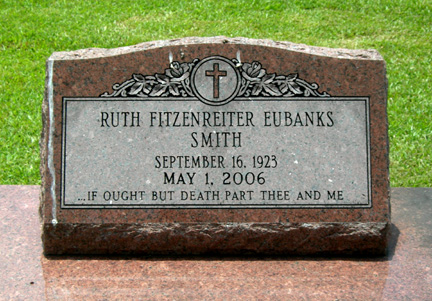 Born:
September 16, 1923 in Bel, Allen Parish, Louisiana
Died:
May 1, 2006 in DeQuincy, Louisiana
Buried:
May 3, 2006 in Goos Cemetery, Lake Charles, Louisiana (Map 8)
Father:
Walter Leo Fitzenreiter, Sr.
Mother:
Ernestine Louisa Perkins
First Husband:
Dual Cortez Eubanks
Married:
June 12, 1943 in Rawlins, Wyoming
Ended:
February 14, 1999 in Sulphur, Louisiana (death of husband)
Children:
Margaret Ann Eubanks
Walter Matthew Eubanks
Ruth Anne Eubanks
Second Husband:
William E. "Gene" Smith
Married:
September 2000
Ended:
October 31, 2002 in Sulphur, Louisiana (death of husband)

Lake Charles American Press, May 3, 2006, p. A2:

Mildred Ruth Smith

SULPHUR — Mildred Ruth Fitzenreiter Eubanks Smith, 82, died Monday, May 1, 2006, in DeQuincy.
She was a native of Bel and had been a resident of Sulphur for 60 years. She retired with the Calcasieu Parish School Board as a teacher after 25 years of service. Ruth was a member of Cal-Cam Retired Teachers Association, Catholic Daughters of America and the Beef Masters Association, and she was on the board of directors for the Goos Cemetery Association for 30 years. She was a member of Immaculate Conception Church.
Survivors include one son, Walter Eubanks and wife Tanya of DeQuincy; two daughters, Margaret Cubbage and husband Don of Sulphur and Ruth Ann Louviere and husband James of Lafayette; one brother, Walter Leo Fitzenreiter Jr. and wife Mavis of Plainview; eight grandchildren; and five great-grandchildren. She was preceded in death by two husbands, Dual Eubanks and William Gene Smith; her parents, Walter L. Fitzenreiter Sr. and Ernestine Louise Perkins Fitzenreiter; and one granddaughter, Mary Rose Urban.
Her funeral will be at 1 p.m. today, May 3, from Immaculate Conception Church of Sulphur. Monsignor Vincent Sedita and Deacon Bud Wagner will officiate.
Burial will be in Goos Cemetery under the direction of Hixson-Sulphur Memorial Funeral Home. Visitation is 9-11:30 a.m. today in the funeral home and from noon in the church. In lieu of flowers, memorial donations may be made to St. Jude Children's Research Hospital or the American Cancer Society.
Words of comfort may be shared with the family at www.mem.com.