Dual Cortez Eubanks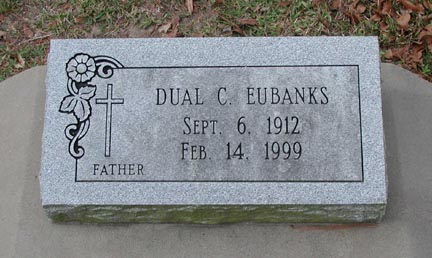 | | |
| --- | --- |
| Born: | September 6, 1912 in Kelly, Louisiana |
| Died: | February 14, 1999, in Sulphur, Louisiana |
| Buried: | February 17, 1999 in Goos Cemetery, Lake Charles, Louisiana (Map 8) |
| | |
| Father: | John Sidney Eubanks |
| Mother: | Irma Childress |
| | |
| Wife: | Mildred Ruth Fitzenreiter |
| | |
| Married: | June 12, 1943 in Rawlins, Wyoming |
| | |
| Children: | Margaret Ann Eubanks |
| | Walter Matthew Eubanks |
| | Ruth Anne Eubanks |
| | |
| | |
Lake Charles American Press, Tuesday, February 16, 1999, p. A2:
Dual C. Eubanks
SULPHUR – Funeral services for Ducal C. Eubanks, 86, will be at 10 a.m. Wednesday, Feb. 17, from Immaculate Conception Catholic Church.
The Rev. Charles Gendron and Brother Ed Normantewicz will officiate. Burial will be in Goos Cemetery in Lake Charles under the direction of Snider Funeral Home of DeQuincy.
Visitation is 5-9 p.m. today with a rosary at 7 p.m. in Hixson Funeral Home.
Mr. Eubanks died Sunday, Feb. 14, 1999, in his residence.
He majored in engineering at LSU where he earned his commission. He joined the Army, serving in World War II as a lieutenant. He was employed as a civil engineer. He was a supervisor of CCC and a member of Immaculate Conception Catholic Church. He was a member of the ROTC, Beef Master Breeders Universal, Local 405 in Port Arthur, Texas, and a life member of the Knights of Columbus 3015.
Survivors include his wife, Ruth Fitzenreiter Eubanks; one son, Walter Eubanks of DeQuincy; two daughters, Margaret Cubbage of Sulphur and Ruth Ann Louviere of Lafayette; two sisters, Mrs. Fred (Vancil) Fogging of Lake Charles and Mrs. Bob (Lola) McBroom of Alejo, Calif.; and eight grandchildren.