Ernestine Louisa Perkins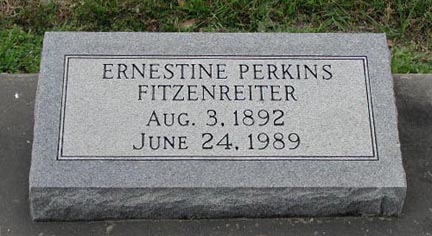 | | |
| --- | --- |
| Born: | August 3, 1892 in Lake Charles, Louisiana |
| Died: | June 24, 1989 in Sulphur, Louisiana |
| Buried: | June 25, 1989 in Goos Cemetery, Lake Charles, Louisiana (Map 9) |
| | |
| Father: | Sheriff John A. Perkins |
| Mother: | Mailliw Hargrove |
| | |
| Husband: | Walter Leo Fitzenreiter, Sr. |
| | |
| Married: | May 1915 in Lake Charles, Louisiana |
| | |
| Children: | Mildred Ruth Fitzenreiter |
| | Walter Leo Fitzenreiter, Jr. |
| | |
| | |
Lake Charles American Press, June 25, 1989:
MRS. WALTER FITZENREITER SR.
SULPHUR – Funeral services for Mrs. Walter Leo (Ernestine "Aunt Tina") Fitzenreiter Sr., 96, will be a 3 p.m. today, June 25, in Henning Memorial United Methodist Church.
The Rev. Donald Hall will officiate. Burial will be in Goos Cemetery in Lake Charles under direction of Hixson-Guardian Chapel.
Visitation is from 2 p.m. today at the church.
Mrs. Fitzenreiter died at 4:57 p.m. Saturday in a Sulphur nursing home.
A native of Lake Charles, she was the daughter of former Calcasieu Parish Sheriff John A. Perkins. She was the postmistress at Bel for more than 20 years and was a member of Henning United Methodist Church.
Survivors are one daughter, Ruth Fitzenreiter Eubanks of Sulphur; one son, Walter Leo Fitzenreiter Jr. of Hornbeck, seven grandchildren and 12 great-grandchildren.