Maurice Rosenthal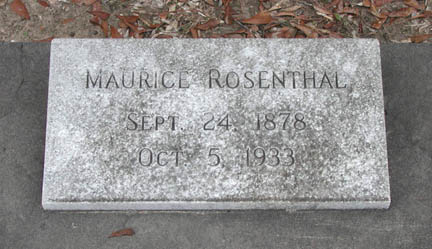 Maurice Rosenthal's brother was David R. Rosenthal.


M. ROSENTHAL DIES SUDDENLY AT HOME HERE
Maurice Rosenthal died at his home at 202 Elizabeth St., in this city, at 2:00 o'clock this morning, after a sudden illness.
The remains were taken over land from the Rene Delhomme and Son funeral parlors here to Lake Charles this afternoon, the funeral cortege leaving Lafayette at 1:00 o'clock.
The funeral, with Masonic services, was conducted at the grave in the Goos Cemetery at Lake Charles, at 3:30 this afternoon.
Mr. Rosenthal, who was 55 years of age, is survived by his widow; one daughter, Florence; a son, Dick; and one brother, Dave Rosenthal of Houston, Texas.