Florence Lillian Rosenthal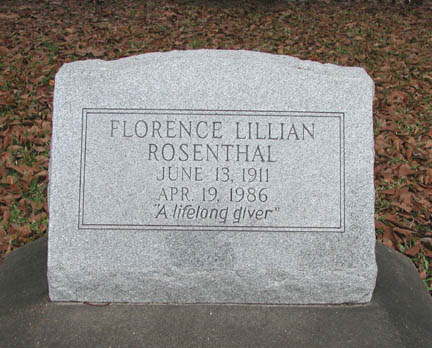 Born:
June 13, 1911 in Lake Charles, Louisiana
Died:
April 19, 1986 in Lafayette, Louisiana
Buried:
April 22, 1986 in Goos Cemetery, Lake Charles, Louisiana (Map 2)
Father:
Maurice Rosenthal
Mother:
Relief Sterling Richards

Lake Charles American Press, Tuesday, April 22, 1986, p. 2:

FLORENCE ROSENTHAL

LAFAYETTE – Funeral services for Miss Florence L. Rosenthal, 74, a native of Lake Charles, will be at 10 a.m. today, April 22, in Martin and Castille Funeral Home.
The Rev. Charles J. Mallet will officiate. Graveside services will be in Goos Cemetery in Lake Charles with the Rev. Joe McGrath officiating.
Miss Rosenthal died at 4:05 p.m. Saturday in a Lafayette hospital.
She was a great-granddaughter of pioneer Calcasieu settler, Capt. Daniel Goos.
She graduated from St. Charles Academy and the University of Southwestern Louisiana (then SLI).
She was employed by Halliburton Services for 29 years and retired in 1973. She had lived in Lafayette more than 40 years.
She was a charter member of the Deck and Derrick Club, belonged to the Louisiana Women's Bowling Association and was treasurer of the Lafayette Women's Bowling Association for 28 years.
Miss Rosenthal is survived by a nephew and a grand niece.