David R. Rosenthal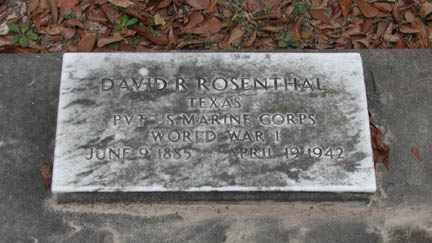 | | |
| --- | --- |
| Born: | June 9, 1885 |
| Died: | April 19, 1942 in Houston, Texas |
| Buried: | April 22, 1942 in Goos Cemetery, Lake Charles, Louisiana (Map 2) |
| | |
| Father: | Raphael Rosenthal |
| Mother: | Henrietta |
| | |
| | |
David R. Rosenthal's brother was Maurice Rosenthal.

Lake Charles American Press, Wednesday, April 22, 1942, p. 3:
David Rosenthal Takes Own Life
DAVID ROSENTHAL , 57, former Lake Charles attorney, was found hanged at 7:45 a.m. Monday, in a law office in the Southern Standard building in Houston.
Justice Tom Maes returned a verdict of suicide. He said that Rosenthal had left a note found on a desk, and that friends said the attorney had been despondent for several months over ill health.
David Rosenthal was a Lake Charles boy and was reared and educated here. His parents formerly operated the Rosenthal department store on Railroad avenue. He was a graduate of Tulane university and practiced law in Lake Charles until he moved to Houston many years ago.
The late Maurice Rosenthal, well known locally, was a brother to David. His parents died several years ago.
The body will be at the Burke funeral home Wednesday. Services and burial will be held here, the hour to be announced later.