Rosalie Ellen Jessen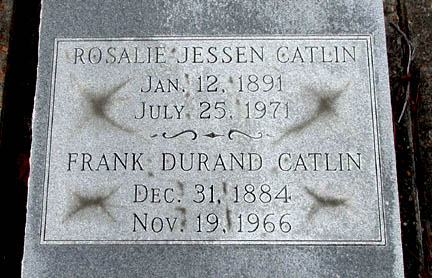 | | |
| --- | --- |
| Born: | January 12, 1891 in St. John Island, Cameron Parish, Louisiana |
| Died: | July 25, 1971 in Los Angeles, California |
| Buried: | August 6, 1971 in Goos Cemetery, Lake Charles, Louisiana (Map 9) |
| | |
| Father: | Emile S. G. Jessen |
| Mother: | Medora Goos |
| | |
| Husband: | Frank Durand Catlin, Jr. |
| | |
| Married: | December 30, 1914 in Lake Charles, Louisiana |
| | |
| Children: | Rosalie Ellen "Rose Bud" Catlin |
| | George Lock Catlin |
| | |
| | |

CATLIN-JESSEN
NUPTIAL EVENT OF THE SEASON
A very beautiful wedding which took place last Evening at the Church of the Good Shepherd, with Rev. C. B. K. Weed officiating, was that of Miss Rosalie Helen Jessen and Mr. Frank Durand Catlin, Jr. The church was decorated lavishly with bamboo and holly caught up here and there with great bows of tulle. A great wedding bell of white roses hung from the arch just over the chancel. Touches of pink and blue carried out the color scheme which was designated the nuptials as one of blue and pink, the lovely pink tints being carried out also in the gowns of the maids and flower girls. To the strains of Lohengrin's wedding march the bridal party entered. Two little flower girls, little Misses Delia Lock and Constance Sullivan, with dainty dresses of baby pink and blue, respectively, preceded the bridesmaids, attended by the groomsmen, who were Miss Irma Lock and Howard Trotter, Miss Letitia Law and Jules Michel, Miss Willie Kirkwood and Tom Trotti, Miss Helen Peters and Tom Martin, Miss Claire Moss and Harris Craddock. This bevy of lovely girls wore baby pink and blue gowns, respectively, and carried shower bouquets of Killarney roses. They were followed by the maid of honor, Miss Selma Lock, who was gowned in baby pink and also carried Killarney roses. The bride entered with Capt. George Lock, who gave her away, and they were met at the altar by the groom and his best man, Mr. Homer Kirkwood. The bride's costume was a beautiful creation of charmeuse draped in fishnet and trimmed with pearl passemenerie with semi-court train. The long lace-trimmed tulle veil was attached to the head of the bonnie bride with clusters of orange blossoms and she carried a shower bouquet of bride's roses and lilies of the valley.
During the ceremony, a beautiful solo was rendered by Mrs. Guy Beatty. The wedding music was played by Mrs. David Levingston. As the party walked out of the church to the strains of Mendelssohn's march, the little flower girls who carried golden baskets, scattered rose petals before the bride. A reception was held at the home of Capt. and Mrs. George Lock, at which the relatives and immediate friends of the family gathered to congratulate and extend good wishes to the happy pair who received them standing under a wedding bell of white roses.
Mr. and Mrs. Catlin left last night for New Orleans to go from there and travel extensively in the East. Their home will be in Montrose, Col., where the groom is in business. The bride is the niece of Capt. and Mrs. George Lock, with whom she has made her home. Her charming personality and her gentle sweet disposition, and lovely character, which made her considerate of old and young, has endeared her to every relative and friend she has, and she will leave a void here that will not soon be filled. She carries the good wishes of a host of friends in Lake Charles, and other towns where she is well known.

Lake Charles American Press, Thursday, August 5, 1971, p. 2:
MRS. ROSALIE CATLIN
Graveside services for Mrs. Rosalie Jessen Catlin, 79, of Los Angeles, Calif., will be at 10 a.m. Friday in the Goos Cemetery here.
The Rev. Richard R. Cook, rector of the Episcopal Church of the Good Shepherd, will officiate. Burial will be under direction of Hixson Funeral Home.
Mrs. Catlin died Saturday in Los Angeles.
A native of St. John Island, she had lived in Los Angeles for 50 years.
She is survived by one son, George L. Catlin of Los Angeles; one brother, Capt. Daniel Jessen of Lake Charles; and four grandchildren.