Lena Mae Bourque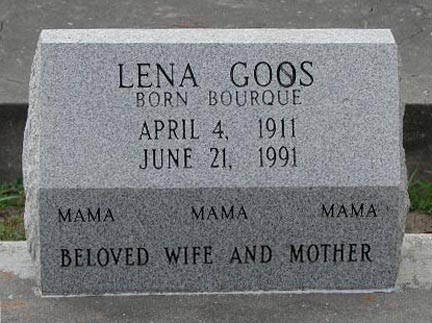 Lake Charles American Press, June 23, 1991:
MRS. LENA GOOS
Funeral services for Mrs. Lena "Ma Goos" Goos, 80, will be at 2:30 p.m. today, June 23, in Johnson Funeral Home.
The Rev. Murrel Ewing will officiate. Burial will be in Goos Cemetery.
Visitation will begin at 8 a.m. today.
Mrs. Goos died at 1:25 p.m. Friday, June 21, 1991, in a local hospital after a lengthy illness.
A native of Eunice, she lived most of her life in Lake Charles. She owned and operated Goos' Cafe on Ryan Street for many years.
Survivors are one son, Frank Goos; two daughters, Evelyn Casey Reeves and Fern Veuleman, all of Moss Bluff; one brother, Clifton Bourque; one sister, Virgie Texada, both of Lake Charles, 12 grandchildren and 17 great-grandchildren.