John Arthur Simpson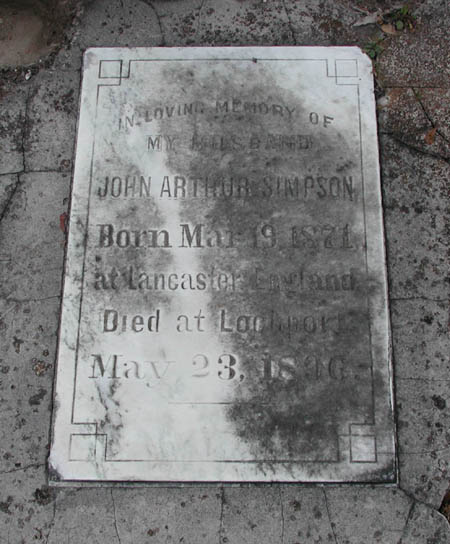 | | |
| --- | --- |
| Born: | March 19, 1871 in Lancaster, England |
| Died: | May 23, 1896 in Lockport, Westlake, Louisiana |
| Buried: | Goos Cemetery, Lake Charles, Louisiana (Map 2) |
| | |
| Father: | |
| Mother: | |
| | |
| Wife: | Letitia Florence Lock |
| | |
| Married: | February 1, 1894 in Episcopal Church of the Good Shepherd, Lake Charles, Louisiana |
| | |
| | |
THE LATE J. A. SIMPSON.
Mr. Simpson, known to his friends as Jack, was born in Lancaster, England, Mar. 19, 1871. Jack was early deprived of his parents, his mother dying at his birth and his father dying in the year 1875. After his father's death, Jack went to live with his uncle, James Simpson, who resided in London and was a captain in the "Royal Irish Dragoons." Jack lived with his uncle until he was twelve years old, when he came to America, first going to Hamilton, Canada, and from there to Bay City, Michigan. Mr. John Mulholland, cashier of the Bay County Savings Bank, of Bay City, took Jack to live with him and not only gave him a delightful home but also a father's care, love and protection.
Jack attended the schools of Bay City and while still quite young took the position of collection clerk and messenger in the bank with Mr. Mulholland, remaining there until he had been promoted to the position of bookkeeper and assistant teller. Jack left the bank to enter Alma college at Alma, Michigan, and after completing a course at this institution, returned to Bay City, where he accepted the position of bookkeeper for the Bay City Iron Works, remaining in that position until compelled to resign on account of poor health.
From Bay City, Jack went to Denver, Colo., where he soon recovered from poor health. While in Denver he occupied the position of bookkeeper and cashier in the general agent's office of the Northwestern Mutual Life Ins. Co. In November 1893, Mr. Simpson was tendered the position of assistant cashier and teller by the First National Bank, of Lake Charles, which position he accepted and occupied, with credit to himself and entire satisfaction to the board of directors. This position he was forced to resign, on account of poor health, in March 1895. Mr. Simpson was married Feb. 1, 1894 to Miss Letitia Lock, the only daughter of Capt. and Mrs. George Lock.
Jack had been a patient and brave sufferer especially the last six months of his sickness as he was in constant pain most of that period, yet never complained. He was without pain at the very last and was conscious of everything and his death was a peaceful one, surrounded by his friends and attended by his devoted and loving wife. Jack made a host of friends wherever he went and the greatest respect and reverence was shown his memory by his friends of Lake Charles. The steamer Hazel, which conveyed the remains from Westlake to Lake Charles, had its flag draped in crepe and floating at half mast. The business houses of Lake Charles that were passed by the funeral cortege, had closed doors.
The funeral services were conducted by the Rev. Jos. H. Spearing, at the Episcopal church of which Mr. Simpson was a member. The remains were deposited in the "Goos" family cemetery at Goosport, to which place they were followed by about one hundred carriages containing his relatives and friends.
Mr. Simpson leaves besides his wife, family, an only brother, James, who was summoned by a telegram from Fort Thomas, Ky., a few days before Jack's death. It was the first time in 13 years that the brothers had met. We have lost a good citizen, a kind and loyal friend -- but his spirit is in that haven of rest, where we all hope to go and we should not regret that his pain is over for ever more.
His friend,
N. E. North.