Helen Martha Paret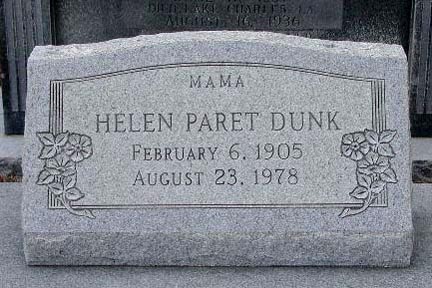 | | |
| --- | --- |
| Born: | February 6, 1905 in Kansas City, Missouri |
| Died: | August 23, 1978 in Lake Charles, Louisiana |
| Buried: | August 25, 1978 in Goos Cemetery, Lake Charles, Louisiana (Map 10) |
| | |
| Father: | Milnor Peck Paret, Sr. |
| Mother: | Letitia Florence Lock |
| | |
| First Husband: | Wilfred D'Armond Knapp |
| | |
| Married: | February 10, 1923 in Lake Charles, Louisiana |
| Divorced: | |
| | |
| Children: | Florence Ida Paret Knapp |
| | |
| Second Husband: | Jack Claxton |
| | |
| Married: | |
| Divorced: | |
| | |
| Third Husband: | P. G. Van Dunk |
| Married: | |
| | |
MRS. HELEN PARET DUNK
Funeral services for Mrs. Helen Paret Dunk, 74, of 2029 23rd St., will be at 11 a.m. Friday, August 25, in Episcopal Church of the Good Shepherd.
The Rev. Benjamin English, pastor, will officiate. Burial will be in Goos Cemetery under direction of Hammer Funeral Home.
The body will be at the church from 10 a.m. Friday until time of services.
Mrs. Dunk was a native of Kansas, Mo., and had lived most of her life in Lake Charles. She was a member of Episcopal Church of the Good Shepherd.
Survivors include one daughter, Mrs. Florence I. Knapp Morton of Lake Charles; one brother, G. Lock Paret of Lake Charles, and several nieces and nephews.
Pallbearers are Charles Paret, John Paret, Lock Paret Jr., George Paret, Melvin Paret and Kent Soileau.