Hartwell Allison Elliott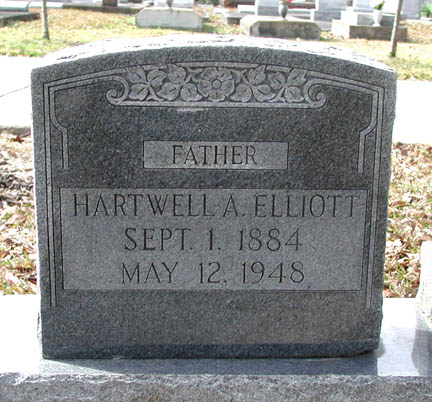 Lake Charles American Press, May 13, 1948:
H. A. Elliott, 63, Dies; Funeral Set for Today
Funeral services for Hartwell Allison Elliott, 63, of West Lake and resident of this section for almost 50 years, will be held at 3:30 p.m. today at the home of his son, Charles A. Elliott, 727 Lafitte street.
Burial in charge of the Hixson funeral home will be in Goos cemetery.
Mr. Elliott, a contractor, who had been in ill health for several years, died at 9 a.m. Wednesday when stricken with a sudden heart attack while working on his new home, about seven miles south of Sulphur.
Born in Shreveport, he came to this area with his family in about 1900 and had resided in West Lake for the last 14 years.
Survivors include his wife, Mrs. Nellie Elliott of West Lake; three sons, Charles A. and Hartwell, Jr., both of Lake Charles, Fred of West Lake; three daughters, Miss Anelda Elliott of West Lake, Mrs. Eugene Vincent of Sulphur, Mrs. Vernon Smith of Fields, La., and two sisters, Mrs. Joe Trotter of Lake Charles and Mrs. Sybil Terrell of Shreveport, and 12 grandchildren.
Pallbearers will be Charles Elliott, Fred Elliott, Croker Jeffers, Andrew Swice, V. L. Hennington and H. C. Krause.