George Lewis Dunn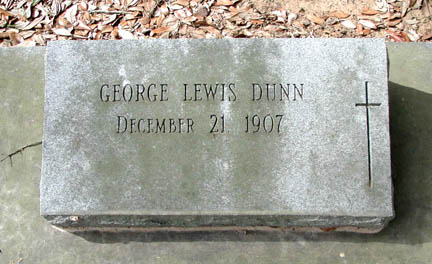 | | |
| --- | --- |
| Born: | December 16, 1907 in Lake Charles, Louisiana |
| Died: | December 12, 2003 in Lake Charles, Louisiana |
| Buried: | December 15, 2003 in Goos Cemetery, Lake Charles, Louisiana (Map 12) |
| | |
| Father: | William Payne Dunn |
| Mother: | Edna Lyde King |
| | |
| Wife: | Katherine Frances Gallaugher |
| | |
| Married: | January 16, 1941 in The Church of the Immaculate Conception, Lake Charles, Louisiana |
| | |
| Children: | Edna Anne Dunn |
| | Barbara Frances Dunn |
| | Patricia Kelly Dunn |
| | |
| | |
Marks, Sonny, Lake Charles American Press, April 26, 1998, p. B1:
The place you sit may be one of theirs
There's a 12-year-old boy who lives on Clarence Street. He builds rabbit huts. Five feet long, 3 feet deep, 3 feet high, with shingles.
He builds two or three of them. Then his parents make him quit because he doesn't want to feed the rabbits. All he wants to do is build the huts.
The boy is now 90. When he drives around town, he sees bigger huts that he built. City hall. LaGrange High School. First National Bank building downtown. St. Margaret Church.
The man is architect Lewis Dunn. His partner was engineer Gus Quinn. For more than 60 years, they did nearly 2,000 jobs on some of the most well-known buildings in Southwest Louisiana.
They called themselves country architects. There was the time roughly 55 years ago that some New York City architects came to Sulphur to build the Maplewood community. They met Dunn and Quinn in their office on Hodges Street.
"Anyway, these two gentlemen, strictly New Yorkers, well-groomed characters, came into the office. We had these nice little French windows opening out into the side yard," Dunn says.
"I know that they had done a 50-story building in New York. All of a sudden, the old cow in the back yard slipped the rope and she stuck her head in the window. I thought those guys were going to have a fit."
Dunn and Quinn laughed about that one for years. But when it came time to tell a client how much a job would cost and then keep it at or under that figure, they stopped laughing.
They started their firm during the Great Depression. They valued simple, functional designs at simple, functional prices.
The built Lake Charles High School (now Lake Charles-Boston). They built DeRidder Junior High and the Sulphur High gym. The built Pearl Watson Elementary, Immaculate Conception Cathedral School and the McNeese School of Business. They built Henning Memorial United Methodist Church in Sulphur, First United Methodist in Jennings and St. Luke-Simpson United Methodist in Lake Charles.
And it all began with a friendship that started when they were Boy Scouts. As adults, Quinn kept the business organized with his knack for paperwork.
"Gus could handle that stuff. It would have driven me crazy," Dunn laughs. "I could go out and check these jobs and see what needed to be done on them."
They never retired. Dunn had a heart attack in 1981, slowed down but never quit. Quinn celebrated his 90th birthday, then built the First Federal Savings & Loan building in Moss Bluff two years ago.
Quinn went to his office on Ryan Street up until a few days before he died at age 92 four months ago.
"When Gus died, I could hardly talk about it," Dunn says in an audible whisper. "It just, it just... he was a good man."
Dunn still sketches some plans and advises friends on a few jobs. In his spare time, he talks about building materials and what they once cost.
The first school he and Quinn built was English Bayou, where Molo Middle is now. They built it before World War II, when materials were $3.87 a square foot.
"If you start building that today, it would cost you $65 a square foot," Dunn mutters. "The price changes. It's ridiculous. The price changes."

Ross, Nola Mae, Lagniappe, January 19, 2000, pp 30-31:
A Conversation With Lake Charles Architect Lewis Dunn
At 92, He's Standing The Test Of Time... Just Like Many Of His Lake Area Landmarks
He helped shape the historical face of our city .. and at age 92, he's not "Dunn" yet.
An untapped source of wisdom, knowledge and experience, Lake Charles architect Lewis Dunn has been a light in the life of his many friends and associates. In 1931, during the height of the Great Depression, Dunn earned his bachelor of architecture degree from the Carnegie Institute of Technology. He came back to Lake Charles to work.
"There was no work," he reflects. "As far as we could tell, there was only one house built that year.
"So I took a trip to Europe via a 'work-a-way' job on a freighter. I was hired by Lykes Brothers and paid $1.50 per month, plus my food and bunk, while I worked in the engine room. After three weeks, we finally reached Germany."
While there, Dunn notes, he was able to view some famous architecture, especially two outstanding Lutheran cathedrals. "Then we worked our way to England, where I saw Westminster Abbey and St. Paul's Cathedral.
"When I got home, Lake Charles was still suffering from the Depression, and I experienced it firsthand. Each day, the Lake Charles Police Department would send someone to meet trains loaded with homeless hobos. I was usually that someone, and I would direct the boxcar travelers to an abandoned brickyard where they could bed down and keep warm in empty kilns.
"I also witnessed read compassion at work there. My aunt, Mable King Kelly, belonged to a women's civilian relief organization that fed these men each day and saw that emergencies were taken care of. Later, the town furnished a brick building near the courthouse, filled with bunks of hay, where the men could sleep.
"It was certainly not a prosperous time to start out as an architect. But Gus Quinn Sr. and I defied the odds by forming an architect and engineering partnership which lasted 60 years. At first it was called Dunn and Quinn, until Pat Gallaugher and Gus Quinn Jr. later joined us.
"We designed nearly 2,000 structures in South Louisiana, and almost 1,000 of them were schools. The old English Bayou School, in 1938, was our fist school," Dunn continues. "We actually found three or four people considering building that first year, and soon, we designed the renovation of the old Rigmaiden Hotel on Ryan Street, plus some theaters. Eventually, in 1947, we did (Lake Charles) City Hall, with the Magnolia Building in 1968, plus First Federal, Bank One, Chateau DuLac, and many high rise buildings downtown. We also designed the electrical engineering building at Louisiana State University and many houses across Louisiana."
A tall, quiet and gentle man, Dunn in unassuming and humble, secure in knowing that he has made his mark in life. He is one of the luck people who has excelled in a career that God gave him the talent for. Within the past several years, he lost his partner, Gus Quinn Sr., who was well into his 90s. Gus Quinn Jr. also died two years ago, but the remaining two partners, Dunn and Pat Gallaugher, remain very close friends.
After a heart attack 10 years ago, Dunn began going to a cardiac rehab facility three times a week. Today, even though he has passed his 1,000th session, he still goes there.
Dunn has also had other health problems, including the loss of one eye in an unexpected accident during a retina operation. But this has not dampened his spirit or his enthusiasm for life.
"I take one day at a time," he says.
And, despite the loss of his one eye, Dunn is still able to sketch house and school plans, as he has for a new book I'm writing about the Dunn, Quinn, Gallaugher and Quinn architectural firm. The book, called A Louisiana Blueprint, is due out in 2000.
While working on A Louisiana Blueprint, I've had more fun with Lewis Dunn than I had while writing any of my other 13 books. I've spent many enjoyable hours trying to absorb some of his wisdom, and listening to his humorous use of "un-architectural" terms like "Alpine schools," "finger schools" or "Grand Dukes mixtures" has shown me his true humility and humor. Just being around Lewis Dunn has inspired a real change in my outlook on life.

Lake Charles American Press, Sunday, December 14, 2003, p. A2:
G. Lewis Dunn
G. Lewis Dunn, 95, architect and founding partner of Dunn, Quinn, Gallaugher and Quinn, Architects and Engineers, died Friday, Dec. 12, 2003, in a local hospital.
A lifelong resident of Lake Charles, he was born on Dec. 21, 1907, the son of William Payne Dunn, originally from Harrodsburg, Ken., and Edna King Dunn, originally from Augusta, Maine.
A graduate of Lake Charles High School, Dunn attended Southwest Louisiana Institute (now the University of Louisiana ─ Lafayette) and received his bachelor's of architecture degree from Carnegie Institute of Technology (now Carnegie Mellon University) in 1931.
He was an active architect in Southwest Louisiana for 60 years, and his firm designed nearly 2000 structures before it closed in the mid-1990s. Some of these buildings included the Pioneer Building (now City Hall), the Magnolia, Bank One and First Federal buildings on Lakeshore Drive and LaGrange and Sulphur high schools, the main science building and dormitories at McNeese State University, the electrical engineering building at LSU, and many other school, commercial and residential structures in Calcasieu, Jeff Davis, Beauregard, Allen and other south Louisiana parishes.
Dunn was past president of both the Central and Southwest chapters of the Louisiana Architects Association, and was honored by the association for his contributions to architecture in the state. He was past vice president and member of the executive board of the Calcasieu Area Council, Boy Scouts of America, and a holder of the Silver Beaver award for his many years of service to the Boy Scouts. He was a leader and supporter of the Lake Charles Charity Horse Show, worked with the youth group, the Lake Charles Equestrian Association, and was a member of the Dixie Jubilee Horse Show Inc. of Baton Rouge. His family has shown horses for many years throughout the South, and he loved his horses and every aspect of the sport. He was an active and devoted member of Immaculate Conception Cathedral Parish and a member of the American Institute of Architects and of Sigma Alpha Epsilon fraternity.
He was a staunch believer in the future of Louisiana, particularly of Lake Charles. He spoke passionately about Southwest Louisiana, its resources and its people to all who would listen. He was a dedicated football fan, and a person had to be serious about football to watch a game with him.
He was preceded in death by his wife of 54 years, Katherine Gallaugher Dunn, and is survived by three daughters, E. Anne Dunn of Baton Rouge, Barbara Mooney of New Orleans and Patsy Moore of Lake Charles; sons-in-law Rex O. Mooney and Charles L. Moore; and three grandchildren, Dunn Moore, Griffin Moore and Katherine Mooney.
His funeral will be at 10 a.m. Monday, Dec. 15, from Immaculate Conception Cathedral. The Rev. Aubrey Guilbeau will officiate. Burial will be in Goos Cemetery under the direction of Hixson Funeral Home of Lake Charles. Visitation is 4-8 p.m. today and from 8 a.m. Monday in the funeral home. The family requests that in lieu of flowers, memorial donations be sent to Immaculate Conception Cathedral, Lake Charles, or Carnegie Mellon University, Memorial Giving, Alumni House, 2nd Floor, 5017 Forbes Ave., Pittsburgh, PA 15213-3890. Words of comfort may be shared with the family at www.mem.com.