Katherine Frances Gallaugher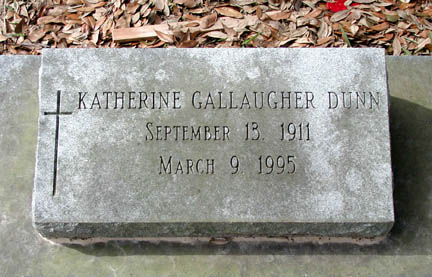 | | |
| --- | --- |
| Born: | September 13, 1911 in Lake Charles, Louisiana |
| Died: | March 9, 1995 in Lake Charles, Louisiana |
| Buried: | March 11, 1995 in Goos Cemetery, Lake Charles, Louisiana (Map 12) |
| | |
| Father: | Francis Valerie Gallaugher |
| Mother: | Barbara Christina "Babette" Fitzenreiter |
| | |
| Husband: | George Lewis Dunn |
| | |
| Married: | January 16, 1941 in The Church of the Immaculate Conception, Lake Charles, Louisiana |
| | |
| Children: | Edna Anne Dunn |
| | Barbara Frances Dunn |
| | Patricia Kelly Dunn |
| | |
| | |

MISS GALLAUGHER BRIDE OF MR. GEORGE LEWIS DUNN
MR. AND MRS. Frank V. Gallaugher announce the marriage of their daughter, Katherine, to Mr. George Lewis Dunn, son of Mr. W. P. Dunn, which was quietly solemnized this morning at the rectory of the Church of the Immaculate Conception. The Rev. Edward Boudreaux read the marriage service at 8:15 o'clock in the presence of the immediate families.



Lake Charles American Press, March 10, 1995:
MRS. G. LEWIS DUNN
Funeral services for Mrs. G. Lewis (Katherine Gallaugher) Dunn, 83, will be at 1 p.m. Saturday, March 11, from Immaculate Conception Cathedral.
The Rev. Michael Barras will officiate. Burial will be in Goos Cemetery under direction of Hixson Funeral Home.
Visitation will be from 4-10 p.m., today, with a Scripture service at 7 p.m.; and from 8 a.m. Saturday.
Mrs. Dunn died Thursday, March 9, 1995, in a Lake Charles hospital.
A direct descendant of Capt. Daniel Goos, a Lake Charles founder, she was a lifelong resident of Lake Charles and a 1927 graduate of St. Charles Academy. She had worked for Davidson Sash and Door Co., Krause Foster Company and the Home Owners Loan Corp. She was a member and Eucharistic minister at Immaculate Conception Cathedral where she was active in the Ladies Altar Society and R.C.I.A. She was also a member of the Orchid Society and Beta Sigma Phi Sorority, and was a major organizer and worker with the Lake Charles Charity Horse Show for a number of years.
Survivors are her husband, three daughters, Anne Dunn of Baton Rouge, Mrs. Rex (Barbara) Mooney of River Ridge, and Mrs. Charles (Patsy) Moore of Gillis; two brothers, Patrick Gallaugher of Lake Charles and Frank Gallaugher of Jennings; one sister, Mrs. W. H. (Babette) Bradshaw of Lake Charles; and three grandchildren.
Memorials may be made to the St. Jerome Mission, P. O. Box 1760, Gallup, N.M. 87305-1760, or Immaculate Conception Cathedral, Lake Charles, the family said.