Claude Leonard Benckenstein, Sr.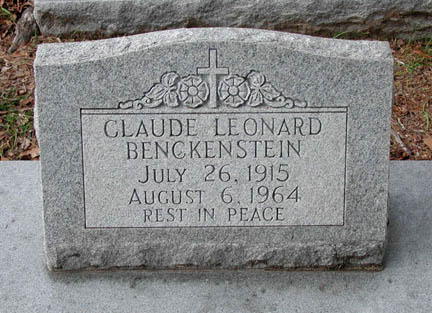 Born:
July 25, 1915 in New Orleans, Louisiana
Died:
August 6, 1964 in Sulphur, Louisiana
Buried:
August 7, 1964 in Goos Cemetery, Lake Charles, Louisiana (Map 9)
Father:
Charles Height Benckenstein, Sr.
Mother:
Margaret Ellen Hortman
Wife:
Elaine Ellis
Married:
September 10, 1935 in Vinton, Louisiana
Children:
Claude Leonard Benckenstein, Jr.
Charles Ellis Benckenstein

Lake Charles American Press, Friday, August 7, 1964, p. 2:

C. L. BENCKENSTEIN

SULPHUR (Spl.) – Funeral services for Claude Leonard Benckenstein, 49, of 502 Cherry St. were to be held at 2 p.m. today in the Holy Trinity Episcopal Church here.
The Rev. Nicholas J. Abraham, rector, was to officiate.
Burial was to be in Goos Cemetery in Lake Charles, under direction of the Hixson Funeral Home of Sulphur.
Mr. Benckenstein, a retired contractor, died Thursday morning at his residence. He was a native of New Orleans, and a former Vinton resident.
He had lived in Sulphur for the past three years.
Survivors are two sons, Ellis Benckenstein of Sulphur; and Lynn Benckenstein of Houston, Tex.; one brother, C. H. Benckenstein of Beaumont, Tex., and three granddaughters.