Anna Marie Goos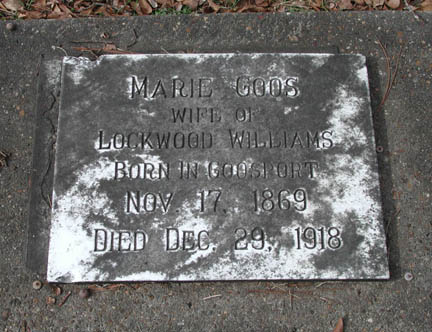 | | |
| --- | --- |
| Born: | November 17, 1868 in Goosport, Lake Charles, Louisiana |
| Died: | December 29, 1918 in Lake Charles, Louisiana |
| Buried: | December 30, 1918 in Goos Cemetery, Lake Charles, Louisiana (Map 9) |
| | |
| Father: | Captain Daniel Johannes Goos |
| Mother: | Katarina Barbara Moeling |
| | |
| Husband: | James Lockwood Williams, Sr. |
| | |
| Married: | April 27, 1887 in Goosport, Lake Charles, Louisiana |
| | |
| Children: | Joseph Lee Williams |
| | George Lock Williams |
| | James Lockwood Williams, Jr. |
| | Jane Louise Williams |
| | |
| | |
Lake Charles Echo, Saturday, April 30, 1887, p. 2:
MARRIED,
WILLIAMS – GOOS. – At the residence of Capt. Daniel Goos, the bride's father, in the town of Lake Charles, by the Rev. A. P. Scofield, on Wednesday evening, April 27, 1887, Mr. J. Lockwood Williams to Miss Marie A. Goos.
Lake Charles American Press, December 30, 1918, p. 1:
Mrs. J. L. Williams
------------------------------
Nov. 17, 1869 -- Dec. 29, 1918.
Mrs. J. L. Williams died Sunday afternoon at 4 o'clock at the home of her sister, Mrs. J. A. Bel, after several days' illness. Mrs. Williams had been in delicate health for some time and developed influenza several days ago, which caused her death.
Marie Goos Williams was the youngest daughter of the late Captain Daniel Goos and his wife, who was Katrina Moeling. She was born November 17, 1869, at the Goos home in Goosport, and was reared here. The Goos family were among the pioneers of this section and Goosport was named for Captain Goos, who made his home there and established a port and village long before the civil war. There were 15 of the Goos children who grew to manhood and womanhood in Goosport, and they and their children and grandchildren are still among the foremost people of the community.
On April 27, 1887, Marie Goos was united in marriage to J. L. Williams, and he with two sons, Lockwood and Lee, besides a large family connection, survive. Lockwood Williams is in the service and is stationed at San Antonio, and Lee Williams resides at Port Arthur. The latter was present at his mother's bedside when she passed away, and the former is expected to arrive today.
In a space of about five years, the Goos family and its numerous connections have lost many members. Among the first to go was "Auntie" Brown, an aunt of the Goos children, who made her home with Mrs. Bel and Mrs. George Lock. Next came Mrs. Elizabeth Knight, a sister of Captain Lock, who came from England and made her home with her brother for many years. Marie Bel Fay, eldest daughter of Mr. and Mrs. J. A. Bel, was the next to pass away. Then George T. Lock met with a tragic death in the summer of 1916, in an automobile accident. Following him in the spring, Captain Lock passed away, and Miss Floy Goos, who made her home with Mrs. Flanders followed in a few months.
The deaths among members connected with the family were those of Mrs. T. H. Watkins and Mrs. J. Alton Foster, these ladies being sisters to Mrs. George T. Lock and Mrs. Ernest Bel. Recently, since the invasion of influenza, Dr. Stanley Scot, a nephew by marriage to Mrs. Bel and Mrs. Lock, passed away, and two weeks ago, Ernest Bel, only son of Mr. and Mrs. Albert Bel, died of pneumonia.
Yesterday afternoon at 4 o'clock Marie Goos Williams passed to the great beyond, and this morning at 4 o'clock, Mr. J. Albert Bel answered the final summons. These two deaths occurred in the same home, just 12 hours apart.
The funeral services were conducted this afternoon at 3 o'clock, Rev. J. F. McKenzie officiating, and internment took place in the old Goos Cemetery in Goosport, where the Goos family have a family burying ground.