Walter Ernest Jessen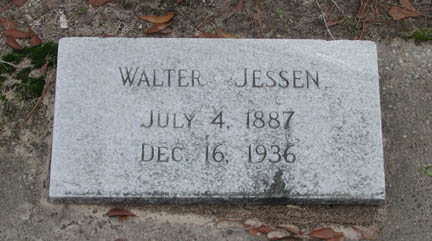 | | |
| --- | --- |
| Born: | July 4, 1887 in Cameron, Louisiana |
| Died: | December 16, 1936 in Lake Charles, Louisiana |
| Buried: | December 16, 1936 in Goos Cemetery, Lake Charles, Louisiana (Map 2) |
| | |
| Father: | Emile S. G. Jessen |
| Mother: | Medora Goos |
| | |
| | |
Lake Charles American Press, Wednesday, December 16, 1936, p. 1:
WALTER JESSEN DIES
-----*-----
Services for Lake Charles Man Held at 3:30 Today.
Walter Jessen, 49, of Lake Charles died in St. Patrick's hospital at 4 o'clock this morning after an illness of one week with pneumonia.
Services will be held at 3:30 this afternoon in the Burke & Trotti funeral home, followed by burial in Goos cemetery. The Rev. Theo Wegener conducted services.
Mr. Jessen was born July 4, 1887, and spent most of his life in Lake Charles. For 18 years he was employed by the Gulf Refining company in Port Arthur, returning to Lake Charles four years ago. His parents were the late Emile Jessen and Medora Goos Jessen.
Surviving are four sisters, Mrs. A. J. Vaughan, and Mrs. Herbert Schap of Lake Charles, Mrs. Frank Powell of DeRidder, and Mrs. Frank Catlin of Los Angeles, Calif.; six brothers, George D., Daniel S., Morris and Guy Jessen of Lake Charles, C. G. Jessen of Cameron, and Fred Jessen of Galveston; a half-brother, Albert Funk of Lake Charles, and an uncle, Walter Goos of Lake Charles.