Rochester Clarke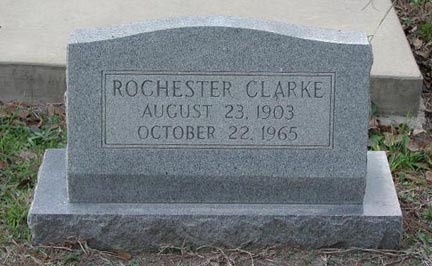 | | |
| --- | --- |
| Born: | August 23, 1903 in Louisville, Kentucky |
| Died: | October 22, 1965 in Lake Charles, Louisiana |
| Buried: | October 23, 1965 in Goos Cemetery, Lake Charles, Louisiana (Map 9) |
| | |
| Father: | George Washington Clarke, Sr. |
| Mother: | Louise Rochester |
| | |
| Wife: | Florence Beatty |
| | |
| Married: | November 10, 1940 in Houston, Texas |
| | |
| | |
Lake Charles American Press, October 22, 1965:
ROCHESTER CLARKE
Funeral services for Rochester Clarke, 62, will be at 10 a.m. Saturday in the Hixson Funeral Home chapel with the Rev. Lloyd Bragg officiating.
Burial will be in Goos Cemetery.
Mr. Clarke died at 7 a.m. today. He was a landman for the Garrison-Gardiner properties.
He was born in Louisville, Ky., and had lived in Lake Charles for 44 years. He resided at 1505 Bellevue St.
Survivors include his wife, Mrs. Florence Clarke; his mother, Mrs. Louise Clarke; one brother, George W. Clarke, and one sister, Henrietta Clarke, all of Lake Charles.
Pallbearers will be George A. Robinson, Richard E. Gerard, William F. Wilson Jr., Stanford L. Vincent, Ronald F. Brewer and William D. Blake.