Lucille Chesson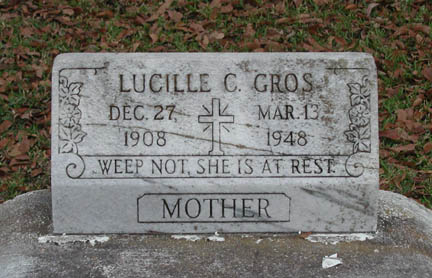 | | |
| --- | --- |
| Born: | December 27, 1908 |
| Died: | March 13, 1948 in Houston, Texas |
| Buried: | March 15, 1948 in Goos Cemetery, Lake Charles, Louisiana (Map 2) |
| | |
| Father: | Murel Chesson |
| Mother: | Virginia Guillot |
| | |
| Husband: | Wallace C. Gros, Sr. |
| | |
| Married: | |
| | |
| Children: | Wallace C. Gros, Jr. |
| | Wallie Jean Gros |
| | Letitia Gros |
| | |
| | |
Lake Charles American Press, Tuesday, March 16, 1948, p. 14:
Sulphur Woman, 39, Dies In Houston Saturday
Special To American Press.
SULPHUR, La., March 16. – Mrs. Lucille Chesson Gros, 39, a life-long resident of Sulphur, died at 2:30 p.m., Saturday, in Houston, Texas, after a brief illness.
Funeral services were held at 2:30 p.m. Monday, at the Hixson funeral home in Sulphur with the Rev. J. S. Frederick officiating. Interment was in Graceland cemetery, Lake Charles.
Survivors are two daughters, Wally Jean Gros, of Beaumont, Tex., and Letitia Gros, of Sulphur; one son, Wallace J. Gros, also of Sulphur; her mother, Mrs. Fred Lock, of Sulphur; one sister, Mrs. Grady Spells, Sulphur; one brother, Sidney Chesson, Sulphur, and her father, Murel Chesson, of Port Arthur, Tex.
Pallbearers include Sidney J. Chesson, J. B. Smith, Clyde Landry, Vic Guillotte, and Alton Gros.