Lillian Gertrude "Gerda" Guillory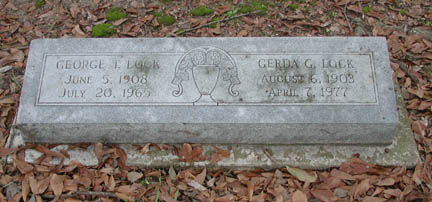 | | |
| --- | --- |
| Born: | August 6, 1905 in Lake Charles, Louisiana |
| Died: | April 7, 1977 in Lake Charles, Louisiana |
| Buried: | Goos Cemetery, Lake Charles, Louisiana (Map 2) |
| | |
| Father: | Ben Guillory |
| Mother: | |
| | |
| Husband: | George Thomas Lock, Jr. |
| | |
| Married: | June 19, 1940 in Lake Charles, Louisiana |
| | |
| | |
Lake Charles American Press:
MISS GERTIE GUILLORY, MR. GEORGE T. LOCK, MARRIED JUNE 19
MR. AND MRS. Ben Guillory announce the marriage of their daughter, Gertie, to Mr. George T. Lock on June 19.
The ceremony was quietly solemnized at 5 o'clock at the home of the bride's parents, 1219 Eighth street, with the Rev. G. B. Hines officiating in the presence of only the bride's immediate family and the bridegroom's mother, Mrs. Della Tarkington, of Hot Springs, Ark.
After a honeymoon cruise along the Mississippi and Florida coasts, they will be at home temporarily at 319 Wilson avenue.
Lake Charles American Press, April 7, 1977, p. 2:
MRS. GEORGE T. LOCK
Mrs. George T. (Gertie) Lock, of 837 Touche St., died at 5:30 a.m. today, April 7, in a local hospital after a brief illness.
Memorial services will be at 10 a.m. Friday in the Hammer Funeral Home Chapel.
Dr. Richard Copeland, pastor of First Presbyterian Church, will officiate with burial in Brookside Memorial Park.
Mrs. Lock was a lifelong resident of Lake Charles.
Survivors are one sister, Mrs. John W. Flanders Sr. of Lake Charles and one daughter, Mrs. Erline Preston Parnell of Memphis, Tenn.