Jules Henry Meyerson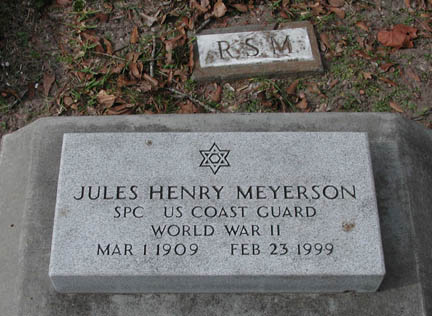 | | |
| --- | --- |
| Born: | March 1, 1909 in Fort Worth, Texas |
| Died: | February 24, 1999 in Shreveport, Louisiana |
| Buried: | February 26, 1999 in Goos Cemetery, Lake Charles, Louisiana (Map 9) |
| | |
| Father: | Samuel Harry Meyerson |
| Mother: | Yetta Schuster |
| | |
| Wife: | Rose Severs |
| | |
| Married: | June 12, 1937 in Bastrop, Louisiana |
| | |
| Children: | Michael Meyerson |
| | Mary Lyn Meyerson |
| | William Albert Meyerson |
| | |
| | |
Lake Charles American Press, Friday, February 26, 1999, p. A2:
Jules H. Meyerson
Graveside services for Jules Henry Meyerson, 89, will be at 2 p.m. today, Feb. 26, in Goos Cemetery.
Rabbi Jennifer Weiner will officiate. Arrangements are under the direction of Hixson Funeral Home of Lake Charles.
Mr. Meyerson died Wednesday, Feb. 24, 1999, in Shreveport.
A native of Fort Worth, Texas, and resident of Shreveport, he was a volunteer for Overton Brooks hospital in Shreveport. He was a member of the Army Air Corps prior to World War II and the Coast Guard during World War II. He was a former member of the Elks Club and was a member of American Legion Post 14 and the 40 and 8 Club in Shreveport.
Survivors include his wife, Rose Severs Meyerson of Shreveport; two sons, Michael Meyerson of Shreveport and William Meyerson of New York; one daughter, Mary Lyn Hammann of Seabrook, Texas; and two grandchildren.