James Medd McCain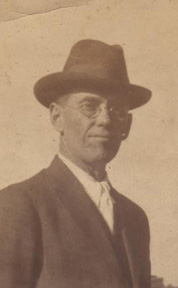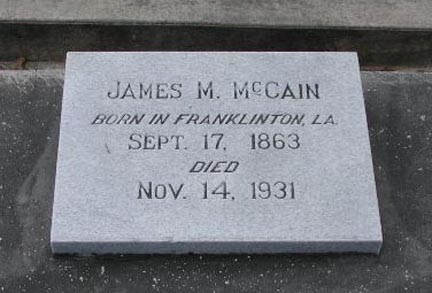 | | |
| --- | --- |
| Born: | September 17, 1863 in Franklinton, Louisiana |
| Died: | November 14, 1931 in Lake Charles, Louisiana |
| Buried: | November 15, 1931 in Goos Cemetery, Lake Charles, Louisiana (Map 10) |
| | |
| Father: | |
| Mother: | |
| | |
| Wife: | Constance Fitzenreiter |
| | |
| Married: | September 15, 1898 |
| | |
| Child: | Frances Florence McCain |
| | |
| | |
J. M. McCAIN'S FUNERAL
Resident of Lake Charles For 53 Years Buried Sunday.
November 14, 1931

Funeral services for James Medd McCain who died at his home 512 Ford street at 8 o'clock Saturday night were held at the residence at 3 o'clock Sunday afternoon, with the Rt. Rev. Monsignor Cramers officiating. Interment was in Goos cemetery. Burke & Trotti were in charge.
The pallbearers were the nephews, Kenneth McCain, George McCain, George McCain, Edward McCain and Maxwell McCain; Medd Hennington, and Lester Morris.
Mr. McCain was born Sept. 17, 1863, at Franklinton, in Washington parish. In 1879 he came to Lake Charles to go into the lumber business, which he followed until 1908, when he and his brother, A. B. McCain, purchased the steamer Rex and engaged in the steam boat business for a number of years. He then entered the mercantile business which he followed until recently. He had been a resident of Lake Charles for 53 years.
He is survived by his wife, a daughter, Mrs. H. C. Krause, a granddaughter, Miss Fritzi Krause, all of Lake Charles; three brothers, M. B. McCain of Alpine, Texas; A. B. and T. C. McCain of Lake Charles, and a sister, Mrs. A. E. McGee of Lake Charles.
He was a charter member of the local W. O. W. lodge.