Harold Duggan McKellar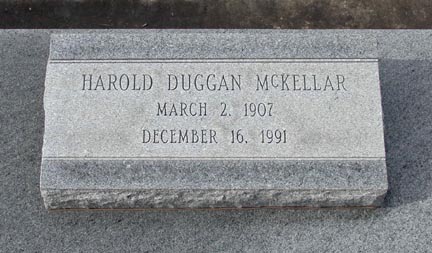 | | |
| --- | --- |
| Born: | March 2, 1907 in Vinton, Louisiana |
| Died: | December 16, 1991 in Houston, Texas |
| Buried: | December 20, 1991 in Goos Cemetery, Lake Charles, Louisiana (Map 10) |
| | |
| Father: | Lauchlin Wordsworth McKellar |
| Mother: | Maria Elizabeth Duggan |
| | |
| Wife: | Clara Fitzenreiter |
| | |
| Married: | April 18, 1970 in First United Methodist Church, Lake Charles, Louisiana |
| | |
| | |
Lake Charles American Press, December 19, 1991, p. 2:
HAROLD MCKELLAR
Graveside services for Harold McKellar, 84, will be at 10 a.m., Friday, Dec. 20, in Goss (sic) Cemetery.
The Rev. Carl Lueg will officiate. Arrangements are under direction of Hixson Funeral Home.
Mr. McKellar died Monday, Dec. 16, 1991 in Houston.
A native of Vinton, he grew up in Elizabeth and spent most of his professional career in Houston as a commercial artist and illustrator. He worked for both the Houston Chronicle and Houston Post.
Survivors include one brother, Alfred Donald McKellar, and two nieces of Lake Charles.