Ellsworth Clifford Sperling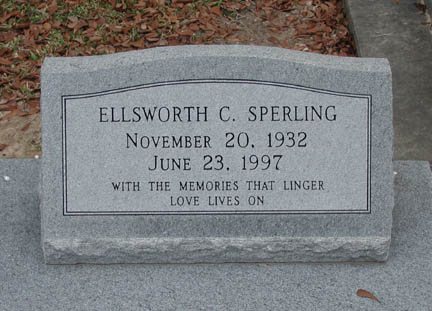 | | |
| --- | --- |
| Born: | November 20, 1932 in Beaumont, Texas |
| Died: | June 23, 1997 in Silsbee, Texas |
| Buried: | June 26, 1997 in Goos Cemetery, Lake Charles, Louisiana (Map 2) |
| | |
| Father: | Ellsworth Clinton Sperling |
| Mother: | Minnie Alice Goode |
| | |
| Wife: | Billie Jean Goos |
| | |
| Married: | |
| | |
| | |

Lake Charles American Press, Wednesday, June 25, 1997, p. A2:
Ellsworth C. Sperling
SILSBEE, Texas – Funeral services for Ellsworth Clifford Sperling, 64, will be at 2 p.m. Thursday, June 26, in Farmer Funeral Home.
The Rev. Rich Lounsberry will officiate. Burial will be at 5 p.m. in Goos Cemetery in Lake Charles.
Visitation is 3-10 p.m. today in the funeral home.
Mr. Sperling died Monday, June 23, 1997, in his residence.
A native of Beaumont, Texas, he resided in Silsbee, Texas for the past 22 years. He was a consulting engineer for Sandwell Engineering.
Survivors include his wife, Billie Sperling of Silsbee; two sisters, Beth Anne Mistrot of Beaumont, and Mary Alice Politz of Montrose, Colo.; and his mother, Minnie Sperling of Beaumont.