Della Delphine McLean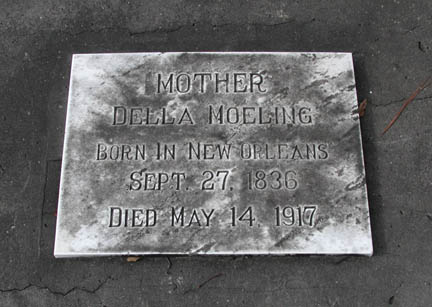 | | |
| --- | --- |
| Born: | September 27, 1836 in New Orleans, Louisiana |
| Died: | May 14, 1917 in Lake Charles, Louisiana |
| Buried: | May 15, 1917 in Goos Cemetery, Lake Charles, Louisiana (Map 9) |
| | |
| Father: | Thomas McLean |
| Mother: | Sarah Cameron |
| | |
| First Husband: | John Philippe Ernest Bel |
| | |
| Married: | New Orleans, Louisiana |
| Divorced: | New Orleans, Louisiana? |
| | |
| Children: | John Albert Bel |
| | |
| Second Husband: | Friedrig G. Moeling |
| | |
| Married: | |
| | |
| Children: | Blanche Irene Moeling |
| | Walter Goos Moeling, Sr. |
| | |
| | |
Lake Charles American Press, May 14, 1917:
MRS. D. D. MOELING
Born, Sept. 27, 1836 Died, May 14, 1917
This morning at 4 o'clock occurred the death of Mrs. Della Delphine Moeling, at the home of her son, Walter G. Moeling in Hodges street. Mrs. Moeling had been ill for a long time and as she had been growing weaker for the past few days, her death was not unexpected.
Della Delphine Moeling was born in New Orleans on September 27, 1836; she spent the early period of her life there, but has resided in Lake Charles for about 30 years, spending a part of this time with her son, J. A. Bel and a part with her son, Walter G. Moeling.
The funeral service will be held at the residence tomorrow morning by Father Walsh, and the friends and old acquaintances of the family are invited to attend. The internment will take place at the old family cemetery at Goosport, where the other members of the family are buried.