Clarence George "Jack" Cosner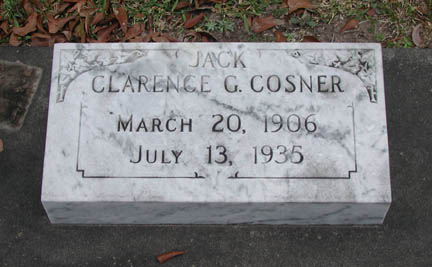 | | |
| --- | --- |
| Born: | March 20, 1906 in Welch, Louisiana |
| Died: | July 13, 1935 in Big Lake, Louisiana |
| Buried: | Goos Cemetery, Lake Charles, Louisiana (Map 2) |
| | |
| Father: | George Cosner |
| Mother: | |
| | |
| Wife: | Marie Frances Richards |
| | |
| Married: | December 24, 1934 |
| | |
| Child: | Jack Richards Cosner |
| | |
| | |
RITES FOR JACK COSNER, BIG LAKE DROWNING VICTIM
Vinton Man Loses Hold When Hatch Opens After Jumping on Boat.
Services were held in Lake Charles today for Clarence G. (Jack) Cosner, 29, Calcasieu parish rice farmer, who drowned in Big Lake Saturday afternoon shortly after 6 o'clock. Mr. Cosner jumped from the cabin cruiser Frances Marie onto a speedboat, lost his hold when the hatch came open, and fell into the lake. Being unable to swim, he went down before rescuers could reach him. Services were conducted by the Rev. George F. Wharton at 10 o'clock this morning at the residence of Mrs. E. E. Richards, Mrs. Cosner's mother, at 2217 South Ryan St. Burial was in Goos Cemetery, with Burke and Trotti in charge.
Active and honorary pallbearers were Aladace Hebert, P. Oertling, and Alfred Arceneaux of Welsh; Alton Prentiss of Houston, and Miller Mims, A. C. B. Anderson, John McGraw, Carl King, W. B. Smith, and George Quilty, all of Lake Charles.
ON WAY TO CAMERON
Mr. Cosner was on his way to Cameron for a boat expedition to the gulf Sunday morning. He was traveling on Guy Richards' cruiser Frances Marie with Mr. Richards, Mrs. E. E. Richards; his wife, Mrs. Marie Richards Cosner; M. Williams, Carl King, Earl Armstead, J. T. Butler, and others.
LOSES HOLD ON BOAT
When the speedboat, playing about the lake, drew alongside the cruiser, Mr. Cosner jumped from the cruiser onto the smaller boat. The hatch, to which he was holding, came open and he lost his hold and fell into the lake, rising twice and then going down for the final time. Both boats had such speed that when rescuers from the cruiser swam to the spot and the speed boat had turned back to the spot, Mr. Cosner had gone down for the last time.
The body was recovered about 8:45 Saturday night.
USE TRAWL NET
The group on the cruiser began dragging the lake immediately after the accident, later enlisting a small fishing boat of Arsand LeBleu in the search. Rowing in the small boat, Murphy Hebert, Wilbert Manning and his brother, Edward Manning, Arsand LeBleu and Walter LeBleu, used a shrimp trawl, and recovered the body at the first cast.
A large group from Lake Charles waited at the Big Lake shore for the return of the searchers. The body was brought to Lake Charles at once by motor truck.
Mr. Cosner was born in Welsh, March 20, 1906, the son of Mr. and Mrs. George Cosner. He was engaged in rice farming four miles south of Vinton.
Surviving are his wife; father of Welsh; a sister, Mrs. Sud Champion of Edwards, Miss.; and two brothers, Joe and John Cosner, of San Antonio, Texas.