Bruce Edward Layer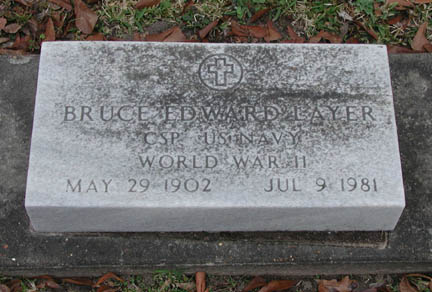 | | |
| --- | --- |
| Born: | May 29, 1902 in San Antonio, Texas |
| Died: | June 9, 1981 in Houston, Texas |
| Buried: | Goos Cemetery, Lake Charles, Louisiana (Map 2) |
| | |
| Father: | |
| Mother: | |
| | |
| Wife: | Della Martha Simpson |
| | |
| Married: | May 7, 1929 in Houston, Texas |
| | |
| | |
Bruce Layer of Houston Post Is Entering Service
HOUSTON, Texas, Nov. 4. (AP) – This swan song, under Bruce Layer's byline, appeared in the Houston Post today:
"This marks the last appearance of Sports of the Day for the duration.
"Tomorrow morning I go to work for Mr. Whiskers.
"Since that Sunday afternoon last December when a radio blared out in a lounge car of a train rumbling through Oregon I knew I would get around to putting in some time for the old gent.
"Nineteen years ago I left San Antonio to come to Houston and today I get ready to go back to say `I do' for uncle.
"Covering sports here has been a lot of fun. It was great working with and for so great a group of sportsmen and when it is all over I hope to get back for a few more guesses that will be as wild as the one on Baylor last year."